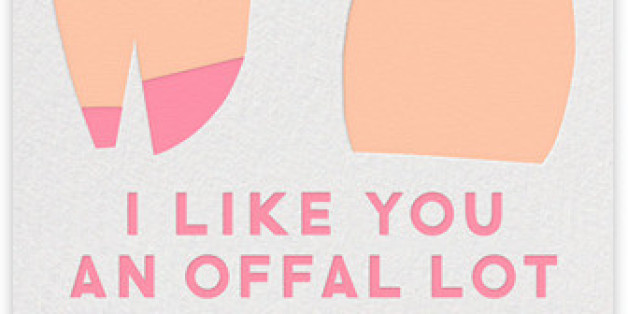 There are a lot of ways you can show your love this Valentine's Day. You can cook an elaborate (and aphrodisiacal) meal. You can bake some heart-shaped desserts. You can even send your love ready-to-bake cookies wrapped in gold leaf. But all that requires some serious effort (and dough), and love doesn't have to be that hard, people. All your loved one really needs to know you care is a thoughtful Valentine's Day card.
Now, you could stop at your local pharmacy and pick up a Hallmark card. But let's be honest, that only says "I like you enough to have put about 5 percent effort into getting you this card." That's fine, if you don't really care about Valentine's day or your Valentine at all.
OR, you could find a card that lets your Valentine know you think they're great, in the most special of ways: with food. Because saying "I love you" is one thing, but saying "I love you more than grilled cheese," now, that's just downright romantic.

PHOTO GALLERY
Valentine's Day Food Cards
Want to read more from HuffPost Taste? Follow us on Twitter, Facebook, Pinterest and Tumblr.
BEFORE YOU GO
PHOTO GALLERY
Heart-Shaped Desserts