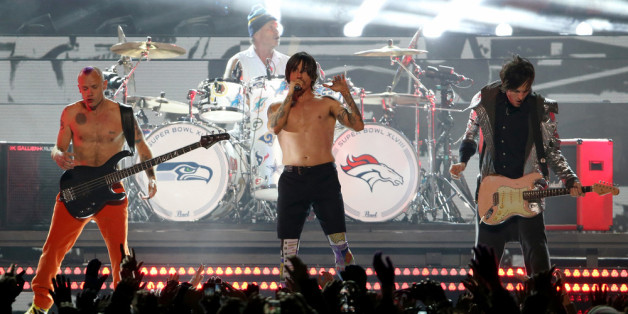 Following the revelation that the band did not have their instruments plugged in during Sunday's Super Bowl halftime show, the Red Hot Chili Peppers' Flea penned an explanation of the group's pantomimed performance.
In a letter posted to the Chili Peppers' website, the bassist says the NFL discussed the situation with the band members and didn't want to risk potential sound issues. It was decided that the bass, drums and guitars on "Give It Away" -- the song the group performed alongside headliner Bruno Mars -- "would be prerecorded." Insisting the Chili Peppers almost never perform without live music, Flea justified the gig as a "surreal-like, once in a life time crazy thing to do and we would just have fun and do it."
Flea reiterated that Anthony Kiedis did sing live. He said the band recorded a music track specifically for the Super Bowl and, with those two things intact, felt they "could still bring the spirit and freedom of what we do into the performance." Flea noted the further transparency in not pretending to plug in their guitars when they weren't actually using them live.
BEFORE YOU GO
PHOTO GALLERY
Celebrity News & Photos