One North Carolina town has become the latest battleground over First Amendment rights after a local school football coach was ordered to stop participating in religious activities with students.
Officials at a public high school in Mooresville, N.C., received a letter in October from the Freedom From Religion Foundation, a national non-profit organization that protects the separation of church and state.
The letter contained a link to a newspaper article that described how Mooresville High School football coach Hal Capps would lead students in prayer after football games. Also included was this photograph showing the coach and some of his players attending a student's baptism ceremony: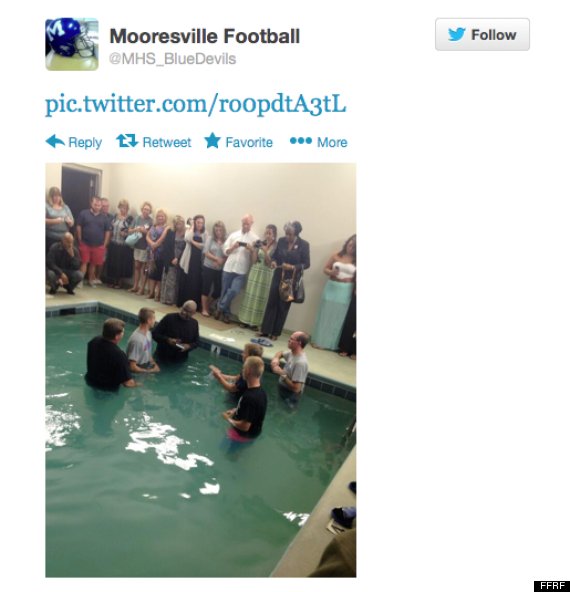 The Huffington Post obtained the letter from the foundation to the school. It read, "It is a violation of the Constitution for the Mooresville High football coach to organize, lead, or participate in prayers or other religious proselytizing before, during, or after games and practices."
"We request that all coach-led prayer and coach participation in any team religious activity cease immediately," the letter continued.
The First Amendment of the U.S. Constitution says that Congress shall make no law respecting an establishment of religion. The clause has been interpreted through the years to prohibit governmental preference of one religion over another.
A spokesperson for the Mooresville schools told HuffPost on the phone Tuesday that praying occurred after football games. "It's actually a community thing," Tanae McLean said. "People leave the stands and go down on the field." But McLean said the baptism happened off school property, after school hours. "The student [who was baptized] had just invited some people that he felt like were a part of his life," McLean said.
Yet some local residents aren't thrilled that an out-of-state organization has told their football coach not to pray. Local news reports and the Blue Devils' Facebook page contain many interviews and comments from people outraged by the news. "I don't think he's forcing anybody [to pray]," local mother Maribeth Stewart told local news outlet WSOC-TV. "The more people that hear about Jesus the better." You can even buy an "I Support Hal Capps" T-shirt.
On Twitter, supporters used the hashtag #ISupportCapps to rally behind the coach.
Please get #ISupportCapps trending guys! They're trying to stop my school football coach from praying!
#ISupportCapps

— The Outlaw Belle (@BelleOutlaw) January 31, 2014
It's sad that the media wants a coach to stop teaching the word of God. That's very pathetic of all of you. #isupportcapps

— Tatum Boggs (@Tboggs_2) February 1, 2014
There was even this tweet, from a North Carolina district attorney:
We need more role models like my friend and former coach, Hal Capps. #ISupportCapps http://t.co/nkGndVP95U #consnc pic.twitter.com/sOYiRICkx0

— Phil Berger, Jr. (@philbergerjr) February 4, 2014
But it looks like the Mooresville Blue Devils' days of praying together at games are over. McLean said school officials had spoken to Capps about not praying anymore with students. "And he understands that," McLean said. "He's agreed to stop."
Freedom From Religion Foundation attorney Patrick Elliot confirmed to HuffPost that Capps's religious behavior is being curtailed. "We received a letter from the school's attorney saying this has been addressed and will be resolved," Elliot said. "Our preference is to have these issues resolved and fixed, and not have to have a court case over it."

BEFORE YOU GO
PHOTO GALLERY
Top Religious Athletes