 America's pollsters find widespread skepticism about holding the Winter Olympics in Russia, although most Americans say they plan to watch. A new survey finds women less likely than men to earn paid, extended leave. And a comprehensive look at the polling on Willem Dafoe. This is HuffPollster for Wednesday, February 5, 2014.
AMERICANS ARE 'SO-SO ON SOCHI' - Greg Holyk: "Half of Americans express a favorable view of the 2014 Winter Olympic Games – plenty for a broad audience but far fewer than greeted the 2012 summer games in London. A range of factors may be at play, among them, dim views of the Russian president, Vladimir Putin. Fifty percent in this ABC News/Washington Post poll hold a favorable opinion of the Winter Olympics starting this week in Sochi, Russia, while 40 percent see the games unfavorably. That compares with a 72-16 percent rating for the London games ahead of their start in July 2012. Generally higher popularity of summer sports may be one factor. Security concerns may be another; 53 percent express a favorable opinion of Russia's anti-terrorism preparations for the games, a majority but not a particularly robust one. And there's the influence of Putin himself, seen favorably by just 27 percent of Americans, unfavorably by more than twice as many." [ABC News]
Especially liberals - Peyton Craighill and Scott Clement: "American liberals are the least enthusiastic about Russia's games. Just 44 percent of liberals have a favorable impression of the upcoming event, compared with 57 percent of moderates and 51 percent of conservatives. The cause isn't entirely clear, but Russian President Vladimir Putin's prickly comments about gays and lesbians likely were received poorly by the American left. Liberals were nearly twice as positive about London's upcoming 2012 games, when 81 percent were favorable, slightly above that of both moderates and conservatives (72 and 71 percent)." [WaPost]
Americans foresee a terror attack... - Laura Smith-Spark: "Of those surveyed for the CNN/ORC poll, 57% said a terrorist attack on the Sochi Games was likely. That compares with the 51% who believed before the 1996 Summer Games started in Atlanta that a terrorist act would occur. Sadly, the latter prediction proved true."
[CNN]
Security concerns make Russian Olympics a 'bad decision' - Pew Research, summarizing results from their latest national survey: "With the 2014 Winter Olympics approaching, more say it was a bad decision (44%) than a good decision (32%) to hold the games in Russia. About one-in-four (24%) say they don't know. Concerns about terrorism and safety are foremost among those who think it was a bad decision to hold the Olympics in Russia. In an open-ended question, 62% of those who say it was a bad decision to hold the Winter Olympics in Russia mention terrorism or general security in Sochi as a reason they feel this way." [Pew Research]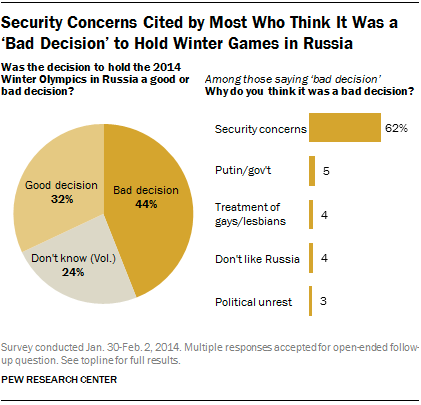 Yet most plan to watch - Ronald Blum: "Just over half of Americans surveyed plan to watch or follow the Winter Olympics, according to an Associated Press-GfK Poll...The likely audience for the Olympics is on the older side, with 65 percent age 50 or over planning to follow the quadrennial event compared with 47 percent among younger adults, according to the survey, conducted from Jan. 17-21." [AP, topline]
Putin more popular than...Tonya Harding in '94 - More from Craighill & Clement: "Putin's ratings are more than 2-to-1 unfavorable than favorable in the new poll, 58 percent to 27 percent, with 16 percent expressing no opinion. However, Putin is more popular than former American Olympic figure skater Tonya Harding was 20 years ago. Harding, who was at the center of a dramatic incident in which her ex-husband hired a hitman to attack her skating rival Nancy Kerrigan prior to the 1994 Winter Olympics in Lillehammer, Norway, had a 10 percent favorable rating and 78 percent unfavorable in a December 1994 Gallup/CNN/USA Today poll following those Games. This year marks the 20th anniversary of the attack." [WaPost]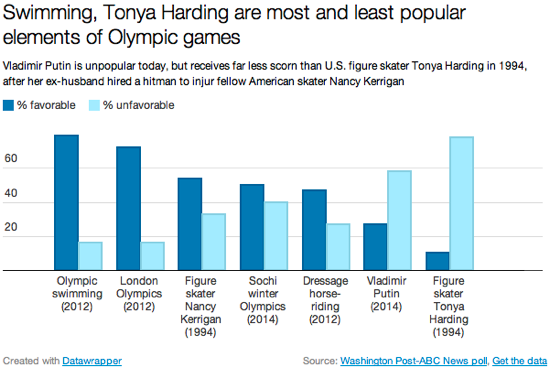 WOMEN ARE LESS LIKELY THAN MEN TO EARN PAID, EXTENDED LEAVE - Sabrina Siddiqui, previewing a survey released exclusively to HuffPost: "Women are significantly less likely than men to receive extended paid leave from their employer, a new poll shows. In the last few years, just 27 percent of women were paid their full wage when they took more than seven days off to care for themselves, a sick family member or a new baby, the poll says. By contrast, 39 percent of men were paid their full wage during a similar period of leave. The national survey, commissioned by American Women, the Rockefeller Family Fund, and the National Partnership for Women, will be released in its entirety next week. The poll also finds that 30 percent of women went unpaid entirely while taking extended leave, whereas just 22 percent of men were unpaid. This is despite the fact that there was no significant difference in the overall amount of extended leave taken among women (21 percent) and men (17 percent)." [HuffPost]
AMERICANS NATIONALLY DOWNBEAT, BUT PERSONALLY OPTIMISTIC - Chuck Todd and Tracy Connor: "A new poll of Americans' view of the national economy and their own finances has uncovered a paradox: While nearly two-thirds think the country is in a recession or going in the wrong direction, the vast majority believe their personal prospects will improve or stay the course. A current of individual optimism — the highest level detected since 2009 — runs through the results of the NBC News/Marist Poll, despite evidence that millions of Americans, especially those in lower income brackets, are struggling to balance their budgets. And yet that individual optimism is trumped by political pessimism of the country's situation as a whole. While a significant number of Americans say their current economic situation has made them change their ways, overall many seem to expect they'll eventually resume their pre-recession, high consumption ways." [NBC]
MOST AMERICANS THINK GOVERNMENT SHOULD WORK TO REDUCE INCOME INEQUALITY - CNN: " A majority of Americans surveyed believe the government should work to reduce the income gap between rich and the poor, according to a new national poll. A CNN/ORC International survey released Wednesday indicates more than six in 10 Americans strongly or somewhat agree that the government should work to narrow that gap, compared to 30% who believe it should not….Opinion on the income gap appears to have changed little since the Reagan era. In 1983, 68% of Americans favored government action to narrow the divide. Today, that number stands at 66%." [CNN]
ANOTHER POLL SHOWS CRIST LEADING SCOTT - University of Florida, in a survey "developed and analyzed by the center under the advice and consultation of Geoff Garin of Hart Research Associates and Kristen Soltis Anderson of The Winston Group: " A poll of registered voters in Florida by the Bob Graham Center for Public Service at the University of Florida in collaboration with UF's Bureau of Economic and Business Research revealed high interest in Florida's governor's race, with 95 percent of likely voters reporting either "a great deal of interest" (66 percent) or "a fair amount of interest" (29 percent)....the poll also found that 47 percent of likely voters would vote for Democratic candidate Charlie Crist if the election were held today, while 40 percent would vote for Republican incumbent Rick Scott. In a matchup with U.S. Sen. Bill Nelson, 46 percent would vote for Nelson, a Democrat, and 42 percent would vote for Scott. In a race against former state Sen. Nan Rich, 41 percent would vote for Scott and 36 percent would vote for Rich, a Democrat." [Miami Herald]
HuffPollster model shows narrowing in Crist's lead over Scott [HuffPost]
-------------ADVERTISING------------
Rasmussen Reports – Help Wanted. Rasmussen has a new position open for a senior data scientist/statistician to help lead us into the future of public opinion polling in a way that relies less on land lines and more on a combination of the various media channels available today. If your background is in statistics, mathematics and programming and you have a vision for the next wave in public opinion, please apply. Love of politics and policy a plus. Job listing and more details here.
-------------ADVERTISING------------
HUFFPOLLSTER VIA EMAIL! - You can receive this daily update every weekday via email! Just enter your email address in the box on the upper right corner of this page, and click "sign up." That's all there is to it (and you can unsubscribe anytime).
WEDNESDAY'S 'OUTLIERS' - Links to the best of news at the intersection of polling, politics and political data:
-Colorado Gov. John Hickenlooper leads his Republican challengers. [Quinnipiac]
-PPP (D) finds Alaska voters in support of legalizing gay marriage and medical marijuana. [PPP]
-Most of the candidates for Massachusetts governor are relatively unknown to voters. [MassNumbers]
-Kathy Frankovic reviews the partisan divisions on a pathway to citizenship for undocumented immigrants. [YouGov]
-Chris Christie's popularity fell nationwide among most groups, but "actually improved among more strongly partisan Core Republicans." [WSJ]
-Larry Sabato and Kyle Kondik pick the six most overrated races of 2014. [Politico]
-Despite Clay Aiken's candidacy, Nathan Gonzales continues to rate the race in North Carolina's 2nd District as "safe Republican." [Rothenberg Political Report]
-David Hill (R) ponders the challenge facing political candidates in pursuit of name recognition. [The Hill]
-Mark Mellman (D) responds to criticism of a his firm conducted on U.S. policy on Iran. [The Hill]
-Ken Fernandez, Scott Huffmon, Tom Jensen and Dave Woodward talk political polling in the Carolinas. [Carolina Business Review]
-Americans still love the Beatles. [CBS]
-"Poll Finds Majority Of Americans Have Never Met Willem Dafoe" [The Onion]