In the shadow of downtown Miami's towering waterfront office buildings, a vacant lot slated to become a hotel and movie theater has revealed a stunning archaeological discovery: a very significant swath of remains of the pre-historic village Tequesta, home to a Native American tribe of the same name.
So far, workers have unearthed indications of eight structures and what may have been boardwalks built to connect them, possibly dating back 2,000 years.
The site holds what is "probably the best-preserved Native American town plan in eastern North America," archaeologist Bob Carr told The Huffington Post.
According to the Miami Herald, the lot may even qualify as a UNESCO World Heritage site, a designation it would share with Egypt's pyramid fields and the Historic Sanctuary of Machu Picchu. Pipes mark the places where postholes were dug into limestone bedrock.
Such designation -- and the site is all but guaranteed recognition at state and national levels -- will surely alter the plans of the developers MDM, which commissioned the archaeological survey as required by law as it moves toward developing the property.
Paid by those developers, Carr and colleagues from the Archaeological and Historical Conservancy have been at the site for months, though the full magnitude of their findings has been slow to trickle out.
The group initially began turning up knives, jewelry, architectural elements, and animal remains consistent with finds at other Tequesta sites; Carr said they went on to discover eight large circles, believed to be foundations for housing structures, with "attached linear alignments representing boardwalks or something similar," and all with postholes dug into limestone below.
The circles are similar to and very near a previous Tequesta discovery. In 1998, just across the Miami River, Carr discovered a 38-foot circle of postholes in the limestone believed to have been the foundation of a ceremonial structure. An ensuing international outcry and legal fight to preserve the site prevented the construction of a planned $100 million condo development, and the sliver of land was turned into the Miami Circle park after being purchased by the state for some $27 million.
Noting that the Tequesta were living in Miami before the Parthenon was built, "whatever it was, this much is certain: there's nothing like it on the continent," wrote the Orlando Sentinel.
The state of Florida, having no funds to properly display the actual circle itself, buried it underground for protection and set up a marker of plants and rock: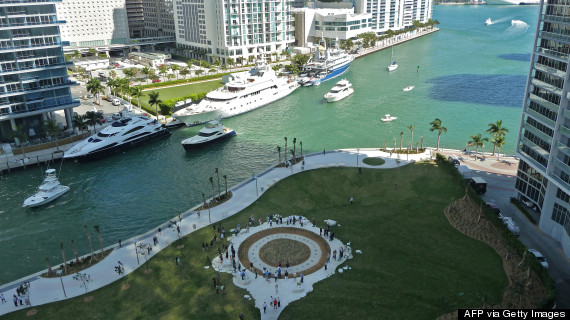 Miami Circle, now on the National Register of Historic Places and a National Historic Landmark.
One of the first native North American groups encountered by Juan Ponce de León in 1513, according to HistoryMiami, the Tequesta were a mostly peaceful tribe of hunter-gatherers who were all but wiped out by the mid-1700s. Between Biscayne Bay and the Everglades, they caught shark, fish, manatees -- a special delicacy reserved for tribal leaders -- and small boar and deer.
The site of their eponymous main village at the mouth of the Miami River, now found on roughly half of the two-acre development lot, has been altered before. Known as Fort Dallas during the Seminole and Civil Wars, railroad pioneer Henry Flagler built one of Miami's first hotels, the grand Royal Palm, on the property in 1897 to spur travel to the area. After it was badly damaged in 1926 by the Great Miami Hurricane, the Royal Palm was condemned and dismantled. Most recently, the property was paved over to serve as a parking lot.
"It's prime real estate today, and it was prime real estate 1,000 years ago. Nothing has changed, except the price," Carr told the South Florida Sun Sentinel.
Evidence of all three of the land's former lives have been found in the dig. It is, in effect, the birthplace of Miami: "We have both pre-historic and historic evidence of Miami's founding both as a city and as a Native American civilization," Carr said.
The archaeologists still need to complete a large documentation project for the site, which they will do with 3-D laser mapping. Then it's time to analyze results and artifacts, which include marine shell and animal bones, to have a better understanding of how Miami's original founders were living 2,000 years ago.
Carr said the site may also help scientists understand previous environmental changes.
"We think we're going to be able to see sea level changes in terms of the historic shore of Biscayne Bay," he said. "And the second thing is that we see evidence of how certain species of animals in South Florida have been affected over time. Today we have the thought always that we modern people are having an adverse effect, but some of these species changes were happening early on because Native Americans were exploiting species. For example, conch shells were larger then, and we think they're smaller now because the Indians were over-collecting them." Developers plan to build a 34-story hotel tower with a movie theater on the site.
Development is king in Miami, and the battle over the site is already underway. MDM, which has already leased space in the future development, has offered to carve out limestone containing one or two circles for display, according the Miami Herald.
"This is the last element of a very extensive downtown development project, all of which has been hugely successful," Gene Stearns, a lawyer for the developers, told CNN.
Though the city has not yet taken steps to preserve the site, its historic preservation board, which is likely to be dissatisfied with MDM's offer, has scheduled a special meeting to discuss the site on February 14.
"Anywhere else in America but Miami this would already be a designated historic site by now," preservation board member Timothy Barber told the Herald.
PHOTO GALLERY
BEFORE YOU GO
Tequesta Finds In Miami
PHOTO GALLERY
Tequesta Finds In Miami