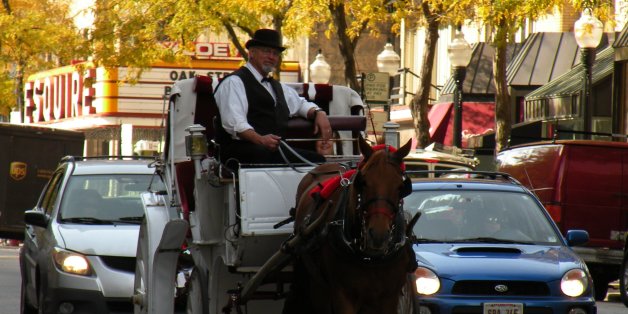 Horse-drawn carriage rides may evoke a bygone era, but they could soon be history on the streets of Chicago.
Powerful long-time Chicago Alderman Ed Burke (14th) introduced a proposal Wednesday that would stop the city from renewing licenses for horse-drawn carriages, which would effectively end the practice on the city's streets.
"They're a nuisance, they're a traffic hazard, it's cruel to the animals, and we should be able to beat New York City to the punch," Burke said, according to the Tribune.
The debate over horse-drawn carriages reached new heights in recent months after then-New York City mayoral candidate Bill de Blasio vowed to banish the practice "within the first week on the job."
De Blasio's ban, which stalled in NYC Tuesday, was cheered by animal welfare activists but jeered by carriage operators and others insisting the rides are a beloved tradition.
Actor Liam Neeson even weighed in, telling the New York Post without carriage operators, the animals would be abandoned or bound for the glue factory.
Dan Sampson, director of the Illinois Horse Park Foundation and former Noble Horse carriage operator, says critics like Burke and de Blasio have it all wrong.
"Do we bottleneck traffic? No more than a tourist who doesn't know where they're going," Sampson told The Huffington Post by phone. Burke's proposed ban, he said, came out of the blue.
"We had no indication this was a problem," Sampson said. His organization "administers and facilitates equine facilities and educates the general public on equine matters" and he said neither he nor members of his group have ever been contacted by the city's Department of Consumer Services or Animal Control to help "differentiate good versus bad equine practices.
"There are good operators and there are bad operators, and we want to make sure the general public and the city knows there are many good operators in the city in Chicago," Sampson said. "However, not all of them are good operators, and the city doesn't take the time to differentiate."
Mayor Rahm Emanuel told the Tribune that while the ban will be debated, he supports Burke's proposal.