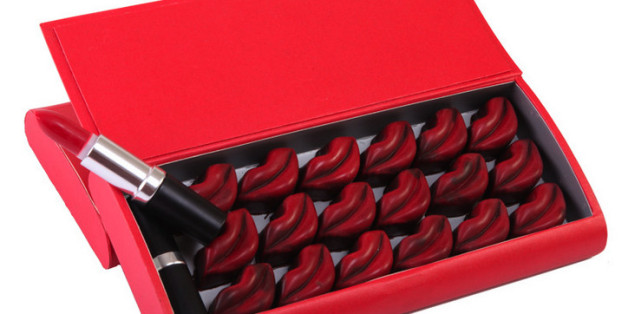 Let us start by saying that we love Francois Payard. We adore his macarons. His truffles make us endlessly happy. His cakes are absolutely breathtaking. Payard's desserts are elegant, decadent and always delicious. (If you haven't tasted them yet, you're seriously missing out.) It's for this reason that we were more than surprised when he came out with these chocolate lips and lipstick for Valentine's Day.
Chocolate lips have always been the creepiest of the Valentine's Day candies -- more fitting for Halloween, really. But chocolate lips with lipstick, that's upping the ante, and not in a good way. There are certain foods masquerading as real-life objects that we're willing to eat. Marzipan pigs? Yes. Angel wing sugar cubes? For sure. Lips? Not so much. Lipstick? No, not ever.
Chocolate lips might taste just like any other chocolate out there, but is there anyone out there who really wants to eat lips (or lipstick)? Hershey's kisses are successful because they knew the answer to that.
To be fair, Payard's confections do sound amazing. The lips are made with a raspberry chocolate that carries a hint of ginger and the lipstick is made with white chocolate raspberry. Unfortunately, the mere appearance leaves us left with little appetite for chocolate. But, if you've ever found yourself wanting to take a bite out of your rouge as you apply it, you might want to fulfill that fantasy and purchase the clutch of 18 lips and one lipstick for $55.
Want to read more from HuffPost Taste? Follow us on Twitter, Facebook, Pinterest and Tumblr.
BEFORE YOU GO
PHOTO GALLERY
Chocolate Samplers