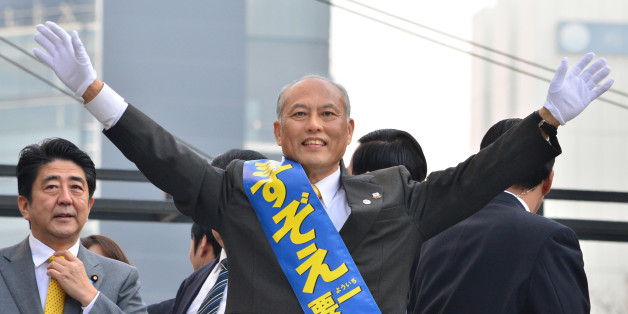 In Japan, a group of women have announced a sex strike against anyone who votes for the leading candidate in Sunday's election for governor of Tokyo.
The boycott was launched after a series of misogynistic comments attributed to the gubernatorial front runner, Yoichi Masuzoe, came to light last week.
A former health minister, Masuzoe is the ruling party's candidate and leads most polls on who will win this weekend's election.
But a movement against the candidate, called the No Masuzoe campaign, was launched when an opposition politician's blog quoted him as saying women are not equipped for national politics because of their strange behavior during the menstrual cycle. The blog cites a 1989 article for the diatribe against female leadership.
The campaign against Masuzoe includes a petition and poster campaign arguing Masuzoe is not fit for public office.
Masuzoe's relationship with women has been scrutinized by the Japanese press before, including a court battle over child support payments. One of his ex-wives even tried to stand against Masuzoe for the party's gubernatorial nomination, but he eventually won the president's endorsement.
The latest scandal just adds to an already tumultuous voting process -- this election was called when the previous governor, Naoki Inose, resigned in December after admitting to accepting money from a hospital chain under investigation for vote buying.
Yet at the heart of Sunday's election is a battle over the future of nuclear power in Japan, after the Fukushima nuclear disaster of March 2011.
Masuzoe's Liberal Democrat party is largely pro-nuclear, whereas his main opponent, Morihiro Hosokawa, is fiercely opposed to nuclear power. Mizuho Fukushima, the politician whose blog post on Masuzoe prompted the sex strike, is also opposed to nuclear power.
BEFORE YOU GO
PHOTO GALLERY
Second Anniversary Of 2011 Earthquake And Tsunami