Matt Damon has been called a lot of things: A humanitarian, a "garbage person" (thanks, Amy Poehler), a handicapped slurring of his own name in "Team America." But perhaps Damon's most treacherous role over the last decade has been that of Jimmy Kimmel's arch-nemesis, rooting back to when Kimmel would bump him off his show nightly in order to make room for other guests.
One would have thought that Kimmel had learned his lesson and would prevent Damon from ever entering his studio again after he terrorized his show a year ago, but Damon was somehow allowed back to promote "The Monuments Men" along with the rest of the new film's cast on tonight's show.
HuffPost Comedy has been given this exclusive photo from the show, and based on what's pictured, we're kind of intrigued (and terrified) to see what happens. You can provide your own guesses on "Jimmy Kimmel Live's" Facebook page before watching the show at 11:35 tonight.
(There are no other major television milestones occurring at 11:35 on tonight, especially involving a rival of Jimmy Kimmel.)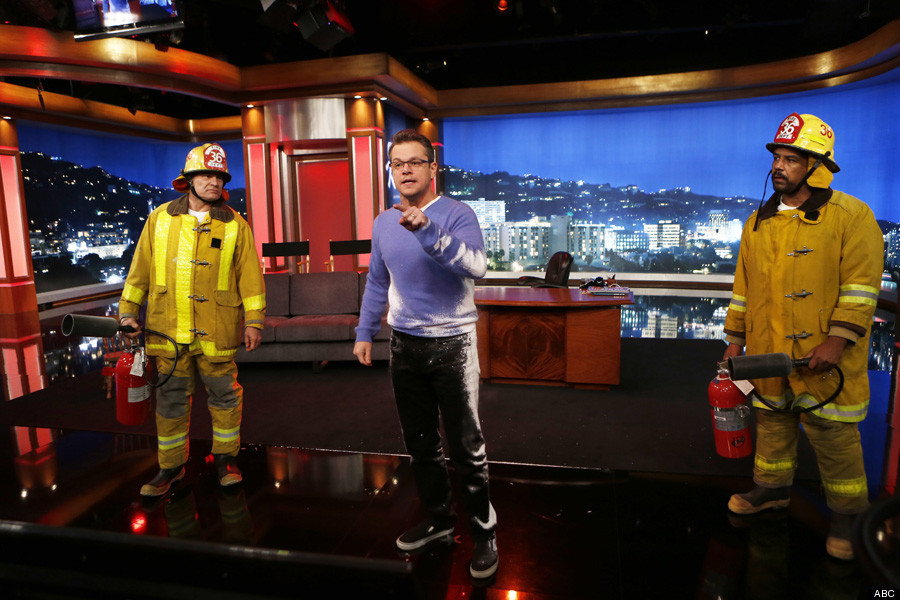 (Photo via ABC/Randy Holmes)