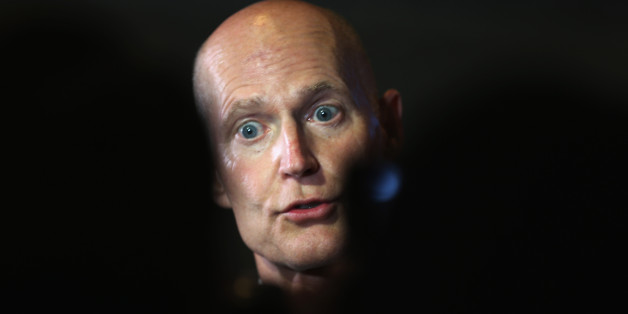 A kerfluffle last January over the use of inaccurate estimates apparently hasn't stopped Florida Governor Rick Scott (R) from doing it again.
A state-wide sales tax holiday proposal has been stalled after it was discovered Scott decided not to use recent estimates he'd been given in favor of old, inflated savings calculations.
Scott claimed in a statement that a 15-day tax holiday on hurricane readiness supplies would save Floridians $20 million. But according to the Florida Current, that number was gleaned from an estimate made all the way back in 2007 -- and Scott had been given a new, updated -- and less generous -- estimate by the state's Office of Economic and Demographic Research at a meeting in November.
The updated estimate Scott was given but chose not to use or promote was much, much lower. Reports the Current:
At their Nov. 20 meeting, the economists estimated a 12-day hurricane preparedness sales tax holiday would save shoppers between $1.2 million and $12.9 million. A midrange estimate put the savings at $3.8 million. Even using the highest estimate and accounting for the three extra days in Scott's plan, there's a discrepancy between Scott's numbers and the up-to-date estimate. ...It's unclear why Scott used an old estimate to push for the 15-day sales tax holiday.
According to the Current, Scott used other numbers given during the November meeting to promote a sales tax reduction on commercial properties. Read the full story at thefloridacurrent.com.
While it's expected the hurricane tax break will be only temporarily derailed, it's not the first time the governor has used bad estimates despite the advice of staff. A year ago, email records obtained by WUSF showed that Scott continued to use inaccurate cost estimates for the expansion of Medicaid in the state despite messages from Florida's chief economist warning Scott's staff that the figures were wrong.
UPDATE: 3:00 p.m.: The Florida Current has updated their article from early this morning with comment from Scott's press secretary, Jackie Schutz, who also contacted The Huffington Post.
Schutz said Scott used the older number because the 2007 analysis included additional items that are not part of the current proposal. The Current notes, however, that the items listed in the administration's January press release are the same as those listed on documents for the analysts' November estimate. The administration updated the online version of the press release on Thursday.
The full list of items that Scott would include has been posted on his budget website.