Attention, Chicago commuters: Your trek to work just a got a little more interesting.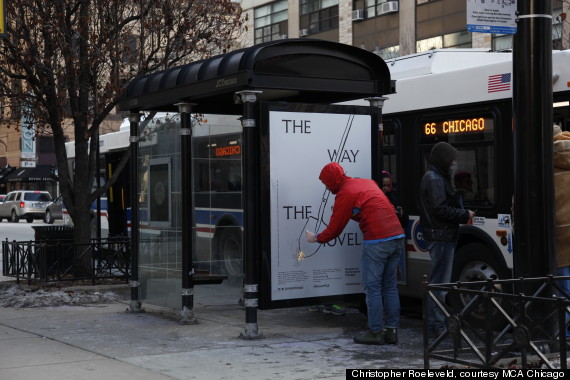 The Museum of Contemporary Art in Chicago is promoting its ongoing archaeology-as-art exhibit, "The Way of the Shovel," through a series of scratch-off bus shelter advertisements. The new initiative invites bystanders to leave their mark on the city, transforming bland ads into DIY works of art.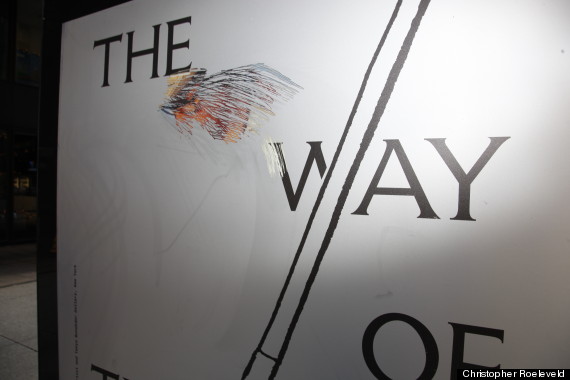 "Using a familiar experience of scratching off silver ink to reveal lotto prizes, the advertisements are opportunities for people to become archaeologists and remove layers to find something new," the museum explains in a statement.
In this case, bystanders uncover a photo by Chicago artist Tony Tasset -- his 1995 image "Robert Smithson (Las Vegas)" -- as well as a special two-for-one admission offer to the museum.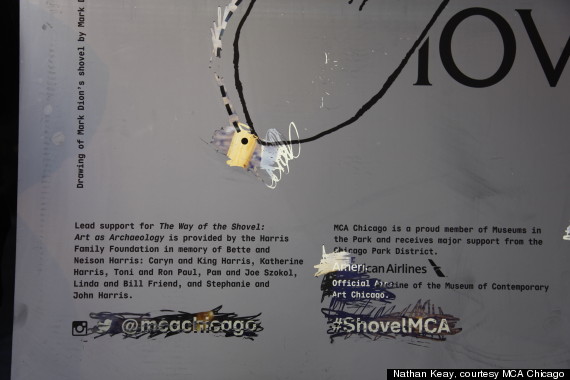 The campaign was conceptualized by graphic designers Romain Andre and Michael Savona; Illinois-based agency Classic Color, which produced the ads, gave Gizmodo details on the printing process:
"The scratch-off material is a special coating we apply that flakes off upon being scratched, much like lottery tickets. The image you see underneath is printed on the non-exposed side of the plastic. On the opposing side we apply the scratch-off coating, which is all silver in color. After the coating process we used a large-format digital printer to print the shovel and accompanying copy directly onto the scratch-off coating. The advertisement itself was affixed with backlighting so that the exposed areas glowed at nighttime."
Commuters have already gone to work digging -- or, rather, scratching -- since the ads debuted. DNAinfo Chicago reports bystanders have been "signing names and sketching doodles into the flake-off coating."
The bus shelters can be found around town at the following locations:
237 N. Michigan Avenue, just south of Wacker
2 E. Chicago Avenue, Chicago and State
360 W. Madison Street, Madison and Wacker
55 E. Monroe Street, Monroe and Wabash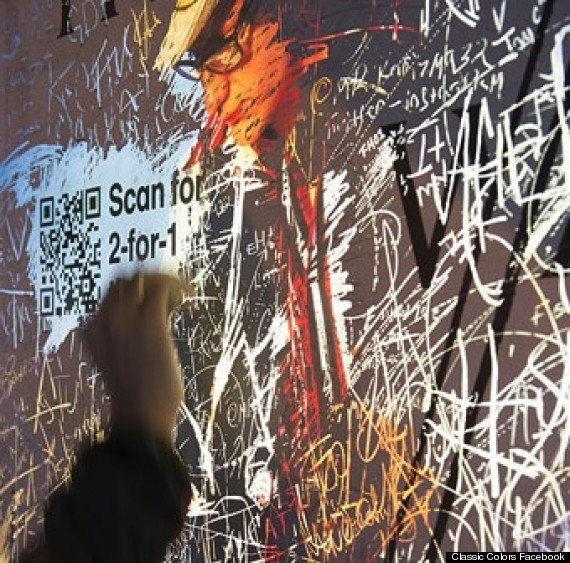 "The Way of the Shovel" at the MCA runs through March 9, 2014.
This story has been updated to identify the graphic designers behind the campaign and clarify photography credits.