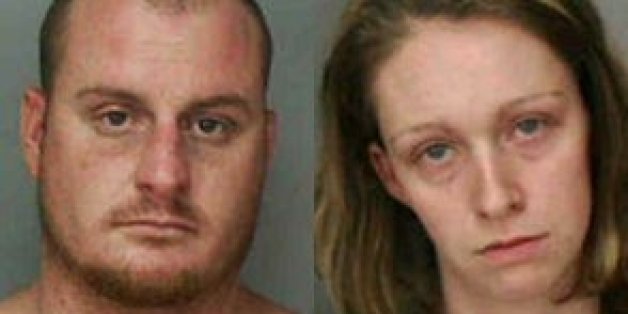 These alleged meth cooks knew how to gator done.
Three Floridians were arrested Tuesday after officials say they found 278 grams of meth, a marijuana plant, two frozen dead alligators and an illegal fish inside a couple's home in Lake Wales, The Ledger reported. The meth, as well as multiple smoking devices, were allegedly within reach of two twin babies.
Shane William Park, 29, and Cortney Loraine Williams, 24, are facing charges that include killing or possessing an alligator, child abuse, and armed trafficking in methamphetamine.
Joshua Lee Mellon happened to be at the couple's home on Tuesday, when deputies executed a search warrant and found the contraband. Mellon was also arrested and charged with possession of methamphetamine and drug paraphernalia.
The alleged "illegal fish" in question was a live, undersize black bass. Deputies say Williams told them she did not have a permit for the fish or the frozen dead alligators.
Alligators -- living or dead -- and drug busts appear to go hand in claw. On New Year's Eve, cops in Brooklyn say they raided an apartment to find not only 668 oxycodone pills, $33,000 in cash and two loaded firearms, but also a 3-foot long alligator named "Snappie," according to Gothamist.
And in 2011, Chicago police searching a home on suspicion of a marijuana growing operation say they were greeted by a 5-foot long alligator.