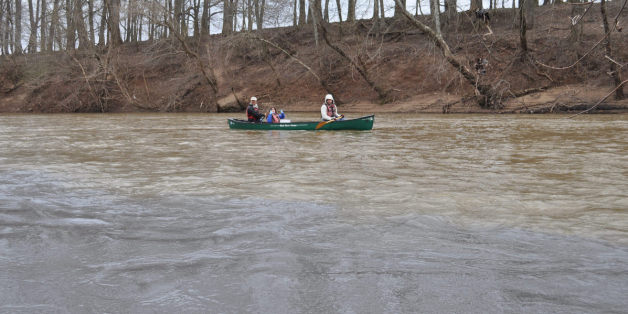 By Colleen Jenkins
WINSTON-SALEM, N.C., Feb 6 (Reuters) - As many as 82,000 tons of ash have spilled into a river after a pipe break at a retired coal plant in North Carolina, and environmental officials said on Thursday that preliminary water quality tests showed no violations of state standards.
Though no immediate threat to drinking water in nearby Virginia towns was reported, officials said concerns remain about how the spill could affect the long-term wellbeing of the Dan River.
"The Dan River does not have a clean bill of health," said Tom Reeder, director of the North Carolina Division of Water Resources.
The ash release was discovered on Sunday at a Duke Energy power plant in Eden. The company said the broken stormwater pipe under a 27-acre ash pond released enough coal ash to fill between 20 and 32 Olympic-size swimming pools.
An estimated 24 to 27 million gallons of ash basin water also reached the river, according to the utility's initial estimates.
The state's Department of Environment and Natural Resources said it would continue to evaluate whether the water was safe in the river where fishing and canoeing are popular activities.
The agency was awaiting analysis of multiple metal levels in addition to the results released on Thursday.
An international group of water advocates said laboratory analysis of water samples it collected from an affected part of the river showed "extremely high levels of arsenic, chromium, iron, lead and other toxic metals typically found in coal ash."
"Duke could have avoided contaminating the Dan River and poisoning Virginia's water supplies if it had removed its toxic ash heaps years ago after being warned by EPA," said Robert F. Kennedy Jr., president of Waterkeeper Alliance.
A Duke Energy spokesman said tests by the utility and North Carolina officials showed no adverse impact on the water supply.
"We feel confident in that data," said spokesman Dave Scanzoni.
Hundreds of workers have been at the site this week trying to stop the ash flow and permanently seal the broken pipe, Duke Energy said in a statement. A spokeswoman said there was no indication of when the spill, which was visible several miles downstream, would be fully contained.
"It has slowed since the break was discovered," spokeswoman Meghan Musgrave said. "Our focus remains on public safety and fixing this break in the pipe."
Duke Energy, the country's largest electric power provider, retired the Eden coal plant in 2012. No coal ash has been produced at the site since then.
The plant was built in the 1940s, and the stormwater pipe was in place before the ash basin was extended over it, Musgrave said. The ash pond stored the waste produced by coal burning.
North Carolina Governor Pat McCrory visited the spill site on Thursday and urged the energy company to get the spill contained so cleanup efforts could begin.
"We will continue to be here on site throughout the cleanup efforts and subsequent investigation of this incident," the governor said in a statement. "We need to make sure this never happens again in North Carolina."
In lawsuits filed last year, McCrory's administration asked a court to require the utility to address wastewater discharge from 14 of its coal ash impoundments in the state.
The Waterkeeper Alliance has called on Duke Energy to close all of its ash ponds.