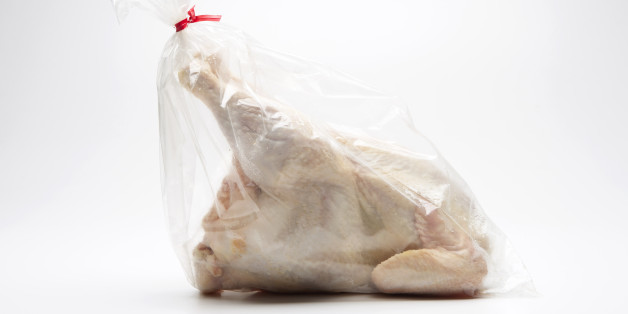 Beware of the bird.
After a 35-year-old man launched a frozen chicken attack on his girlfriend this week, a French court ruled that cold poultry constitutes a weapon, France's RTL reports.
According to French news site 20 Minutes, the man appeared before the court in Vesoul on Thursday for aggravated violence. After hearing the details of the case, the judge deemed the frozen chicken a "weapon of purpose."
As the narrative goes, the man showed up at his girlfriend's house in Luxeuil-les-Bains while intoxicated Wednesday morning, and the two got into an altercation. The argument became heated, and the man grabbed a frozen chicken from the 46-year-old woman's freezer and hit her with the bird.
The court also heard that the man slapped and verbally threatened the woman.
The assailant was sentenced to 24 months in prison -- 12 of which will fall under a suspended sentence -- and probation. The man had reportedly been convicted of violence against the same woman twice before.
Though wielding frozen chicken as a weapon may seem like an unusual choice, food has been used for other assaults in the past. Last year, a Pennsylvania man beat his wife with a package of frozen beef, and, in 2012, a Florida woman attacked her husband with a bag of ice cream.
BEFORE YOU GO
PHOTO GALLERY
Weapon Of Choice