Six anonymous members of Pussy Riot have penned an open letter asserting that Nadezhda Tolokonnikova and Maria Alekhina are no longer part of their group.
"It is no secret that Masha and Nadia are no longer members of the group, and will no longer take part in radical actionism," the women stated in a blog posted to the Pussy Riot Live Journal. "Since Nadia and Masha have chosen not to be with us, please, respect their choice. Remember, we are no longer Nadia and Masha. They are no longer Pussy Riot."
The letter, translated in full on The Guardian's website, was released shortly after Tolokonnikova and Alekhina made an appearance at Amnesty International's "Bring Human Rights Home" concert in Brooklyn on Thursday night. The punk art collective criticized the show, which featured uber-famous musicians like Madonna, Yoko Ono, Lauryn Hill and The Flaming Lips, for contradicting Pussy Riot's "leftist anti-capitalist ideology."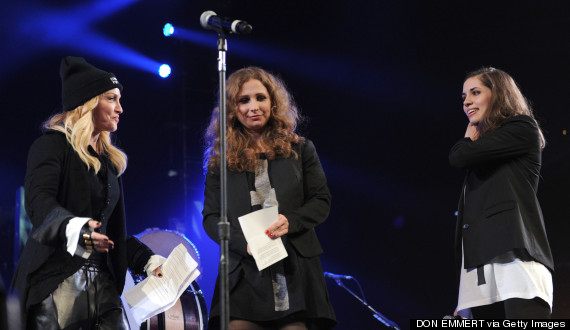 Madonna (L) introduces Maria Alyokhina (C) and Nadezhda Tolokonnikova speak onstage at the Amnesty International Concert at Barclays Center on February 5, 2014 in New York City. (DON EMMERT/AFP/Getty Images)
It reads, in part:
"We charge no fees for viewing our artwork, all our videos are distributed freely on the web, the spectators to our performances are always spontaneous passersby, and we never sell tickets to our 'shows.' Our performances are always illegal, staged only in unpredictable locations and public places not designed for traditional entertainment."
Signed by their pseudonyms (Garadja, Fara, Shaiba, Cat, Seraphima and Schumacher), the letter does praise Tolokonnikova and Alekhina for their decision to advocate for the rights of prisoners. They described the two recently freed women as "brave human rights defenders;" however, the letter also emphasized that their "institutionalized advocacy" is not compatible with the radical nature of Pussy Riot.
At a press conference before the Amnesty concert, reporters asked Tolokonnikova and Alekhina about a possible rift in the original Pussy Riot group. Alekhina dodged the question, stating, "When we were jailed, Pussy Riot became widely known, and changed from a group to a movement. Anyone can put on a mask and stage a protest. Anyone can be a member of Pussy Riot."
According to the letter, the two women are no longer in contact with the remaining members of Pussy Riot.
BEFORE YOU GO