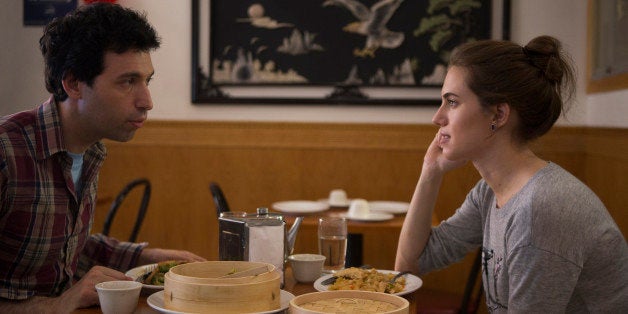 Here at HuffPost Women, one of the things we love most about Lena Dunham's HBO show, "Girls," is the incisive, witty and hilarious dialogue that Dunham and the rest of her writing team come up with every week. So instead of simply recapping Season 3, we decided to pick five quotable gems from each episode.
This week we see Hannah putting her big-girl pants on, quitting her job at Ray's and entering corporate America as a sponsored content writer for GQ. Although she's initially seduced by the free snack room and praise from her cool-as-a-cucumber boss (played by the ever-stylish Jenna Lyons), she quickly becomes terrified that a 9-5 job that isn't quite "spiritually fulfilling" will destroy her ability to be a "real writer." Meanwhile, Jessa is forcefully selling black christening dresses to rich Brooklyn moms, Shosh has decided to "unchoose" her reckless lifestyle and find a for-real, serious boyfriend, and Ray and Marnie are taking the first, tentative steps toward a beyond-sex romantic connection. Of course, they also end up in a restaurant during lunchtime yelling at each other about Africa and western aid over dumplings. But, as we all know, the course of true love temporary companionship never did run smooth.
1. Hannah accepting praise: "Yeah, I feel like that wasn't as re-tweeted as it should have been, so I appreciate the support."
2. Shosh on Ray's basketball skills: "Ray really seems to have the respect of his peers on the court." Jessa: "That's amazing. It's really hard for a Jew to gain respect in sports."
3. Hannah suggesting types of men at her new GQ job: "The Kaballer. He's a little sleazy. He's like, out looking for sex. But he's wearing Kaballah bracelets so you know he's spiritual. He'd like fuck some serious enlightenment into you."
4. Jenna Lyons, as Hannah's boss, on her ideas: "Neiman Marcus doesn't sell a widow's peak, but worth considering."
5. A fashion truth from Joe, Hannah's coworker: "Fedoras are worse than genocide."
Honorable Mention...
Adam on why he goes to acting auditions: "I just like reading emotional cues from strangers in a high-pressure situation."

BEFORE YOU GO