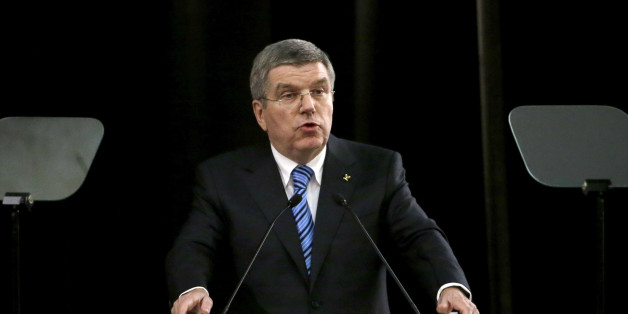 NBC addressed criticism over a controversial edit to its broadcast of the Olympics opening ceremony in Sochi over the weekend.
The network came under fire for cutting International Olympics Committee president Thomas Bach's comments from its broadcast on Friday. Bach's message, in which he called for an end to "any form of discrimination," was bold considering Russia's anti-gay legislation. NBC's editing decision ignited a firestorm on Twitter.
"The IOC President's comments were edited for time, as were other speeches, but his message got across very clearly to viewers," an NBC spokesperson told the Wrap on Saturday.
That wasn't the only issue that critics had problems with. The hashtag #NBCfail  — which took off during the summer 2012 games— returned over the weekend. Viewers complained that NBC did not air certain events live on network television, delayed broadcasts until after the results were already known and limited online access to its livestream to viewers with cable subscriptions.
Why is @NBCOlympics so content to air 9 hours of taped delayed skating? It's not like there no other events to show! #NBCFail

— Randy Hendricks (@randyhendricks) February 9, 2014
So I can't even stream the Olympics with my internet subscription, I have to pay for cable too? Thanks @NBCOlympics for nothing. #NBCFail

— Caitlin Mewmew (@catgirl_mewmew) February 9, 2014
Remember when we used to be able to watch more than 3 hours a day of Olympic coverage for free? Yeah me too. #comcast #Sucks #NBCFail

— Cecily Kiester (@Cecilyjk) February 9, 2014
#NBCFail
Really, noon on Sunday & I am seeing an infomercial? Seriously? No competition happening? None?
#nbcolympics FAIL!

— Lula_Pearl (@Lula_Pearl) February 9, 2014
I wanted to watch a replay of the men's downhill w/o seeing results first. Can't be done. #NBCFail

— Mike W (@KStater91) February 9, 2014