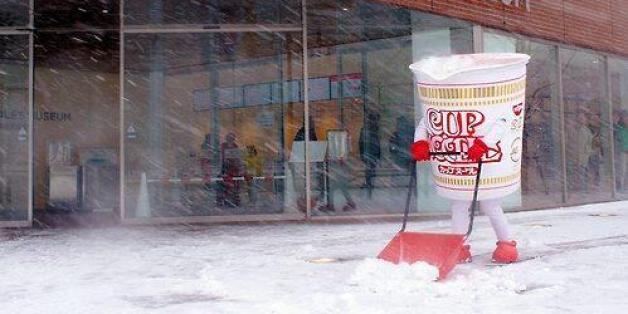 Time to work off those carbs.
When snow strikes, you've got to shovel it up. Maybe you dug your car our this morning. Maybe you salted your sidewalk. Perhaps you phoned in a state of emergency and crossed your fingers.
But this weekend in Yokohama, Japan, one diligent Cup Noodles employee donned his branded, oversized foam duds and got out there to clear the walk. The cup of noodles is likely better than you in this respect, and not simply because this person works at the Nissin Cup Noodles Museum.
That's right, there's an instant ramen museum, and you don't work there. Maybe it's time you quit law school and got a job that means something. While you ponder this, live vicariously through these Tweets:
カップヌードルミュージアムの前でカップヌードルが雪かきしてる。冷めたら大変だと思うんだけどなぁ。 pic.twitter.com/Cv68DxmcJt

— kyazupon (@kyazupon_z) February 10, 2014
早く着いたし大雪で空いてるだろうからとカップヌードルミュージアムへ行ったらカップヌードルが雪かきしてた。 pic.twitter.com/37wdMPvEUp

— まりを (@itoto0912) February 8, 2014