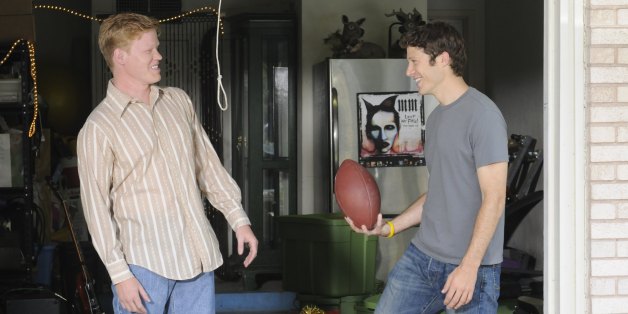 A few actors from "Friday Night Lights" have already visited the world of "Parenthood," but an actual crossover is finally happening.
While "Parenthood" is on hiatus during the Winter Olympics, NBC announced a "Parenthood" web series to keep fans happy until the Braverman clan returns.
TV Guide reports that the four-part web series, "Friday Night at the Luncheonette," will feature Mae Whitman's character, Amber, while she works at the Luncheonette recording studio. While working at the studio some familiar faces from Dillon will stop by, specifically Landry Clarke (Jesse Plemons) and Billy Riggins (Derek Phillips).
Landry? In a recording studio? Sounds like a Crucifictorious reunion to us!
If you "Friday Night Lights" fans are excited, imagine what Whitman must be going through. Her eternal love for all things "FNL" has been thoroughly documented. See some examples below, and watch the digital series when it premieres Thursday, Feb. 13.
EAST MEETS WEST.
#ryanandamber
#caffertyandriggins
#worldscollide pic.twitter.com/ko2enwxR

— mae margaret whitman (@maebirdwing) November 1, 2012
"@liztigelaar: @maebirdwing and a mournful profile selfie :) pic.twitter.com/5XE4z3MkcF"

Coach !! Clear eyes

— mae margaret whitman (@maebirdwing) July 17, 2013
Thank you tim for getting me through pic.twitter.com/hFNcU4izbg

— mae margaret whitman (@maebirdwing) April 8, 2013
"@staceyoristano: stole this from The Riggins House.saving it for you! pic.twitter.com/0c5WZCkiOK"

YOULL NEVER UNDERSTAND WHAT THIS MEANS TO ME

— mae margaret whitman (@maebirdwing) October 22, 2013
"@DavidHudgins3: Happy birthday @maebirdwing with the Riggins-on-a-cake #atxtvs2 pic.twitter.com/qWiqTH48bC"

Best
Day of my life

— mae margaret whitman (@maebirdwing) June 8, 2013
BEFORE YOU GO