CHICAGO -- The effects of subzero winter weather look eerily beautiful on Midwestern lighthouses and on the Chicago lakefront. When they seize your car into an immoveable ice chunk? Not so much.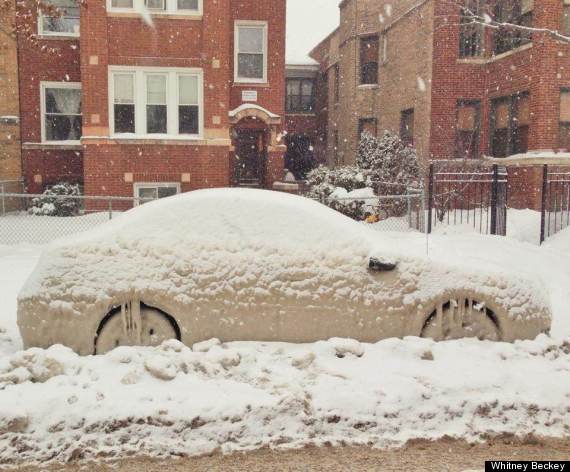 The unlucky car parked on North Drake Street in Chicago's Albany Park neighborhood.
As Chicagoist first reported, one Chicagoan is fearing her car parked on the street may be frozen in its icy tomb until spring thaw after a water main (from the city's notoriously crumbling sewer system) broke early last week, flooding the North Side street.
"[The street] where the water main broke is a true disaster," Whitney Becke, 29, told The Huffington Post via email. "Vehicle undercarriages scrape as they drive down the frozen two-track. There are other cars on the street that are also encased in ice."
Becke, a regular public transit commuter who lives a street over from where she parked the car, said she had no idea of the water main break until it was too late.
"I went outside [Sunday] with a rubber mallet, a plastic children's snow shovel and my boyfriend in tow. We made some serious progress, with the help of a few caring neighbors. However, after over an hour and a half of chipping, three of my tires are still completely encapsulated in ice and will have to thaw before anything can be done."
Becke, who was able to chip enough ice from the door to get in and start the car, takes consolation in the fact that her car isn't parked on one of the 107 miles of city streets that have a briskly-enforced winter overnight parking ban.
A Chicago Streets and Sanitation spokeswoman Molly Poppe told HuffPost typically when a water main breaks, the department works in conjunction with city's Water Management to move cars so repairs can be made. For cars unlucky enough to be trapped on a snow route or street with a parking ban, a fleet of vigilant tow trucks are never far away.
Meanwhile, after contacting the office of 39th ward Alderman Margaret Laurino, Becke said one of alderman's assistants suggested she "go to the local hardware, buy up as much liquid de-icer as I can afford and call up five strong men to help me push."
The icy blast that's freezing cars in their tracks is pushing Chicago to a record number of subzero lows for one season, Crain's Chicago Business reports. According to the National Weather Service, Chicago temperatures have been below zero 19 times so far this winter as of Feb. 7. The record is 25, set more than a century ago.
Chicago Top 10 Seasons with Most Subzero Lows pic.twitter.com/F7wg3f8a0p

— Chicago NewsRag (@TheNewsRag) February 9, 2014
BEFORE YOU GO
PHOTO GALLERY
Chicago Under Ice 2014