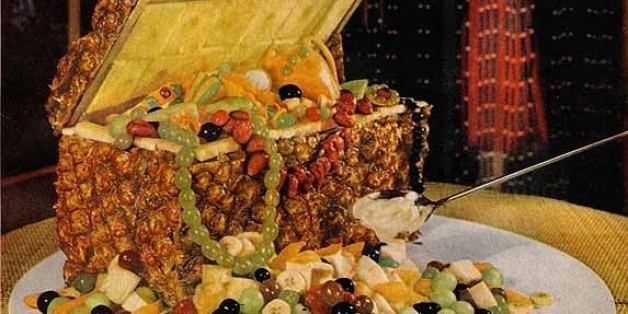 When it comes to mayonnaise, people have strong feelings. Some of you can't stomach the mere thought of it and others of you love it so much you even add it to your PB&J. (This is not okay, by the way.) Regardless of where you stand on the mayonnaise issue, we're sure that when it comes to the Hellmann's mayonnaise vintage recipes, everyone -- mayo lovers and haters alike -- can agree that they're an assault to all that is good and right about food, if not the world in general.
Lucky for the planet, most of these vintage recipes died out with the close of the decades that produced them. (We're not sure we would want to live in a world where cranberry candle salads made with mayonnaise was a normal thing to order off a menu.) And lucky for Hellmann's, the company has stopped trying to be a culinary game changer -- and have quit trying to convince us to eat mayonnaise with our fruit -- because we're not sure the world would have supported it much longer. Behold, the worst vintage recipes ever made.
PHOTO GALLERY
Hellmann's Vintage Recipes
Want to read more from HuffPost Taste? Follow us on Twitter, Facebook, Pinterest and Tumblr.
BEFORE YOU GO
PHOTO GALLERY
Vintage Recipes