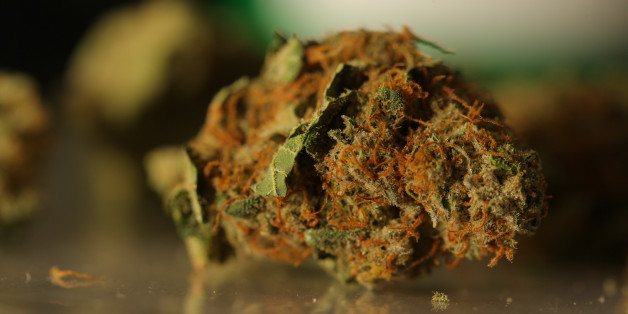 Think of Leafly as a Wine Spectator or a Goodreads. But instead of wine or books, it's a place to gather, rate and talk about marijuana.
The Leafly experience doesn't conjure images of tie-dyed shirts and Cheech and Chong jokes. On a slick interface, with an index of over 600 cannabis strains, nearly 60,000 reviews of those strains and over 36,000 reviews of thousands of dispensaries around the world, it's far more sophisticated. Leafly, which has been described as the "Yelp of cannabis," represents the new mainstreaming of marijuana culture -- bringing the oft-stigmatized leaf and its users into the daylight.
"We wanted to be the first global mainstream brand that legitimizes cannabis more, treats it more like an adult conversation, not just something that serves a sub-culture or a stereotype," Leafly founder Cy Scott told The Huffington Post. "We appreciate the culture, but I don't wear a lot of tie-dye myself. This is an app and a site for everybody. The acceptance of marijuana across the country warrants this kind of design."
The marijuana marketplace is changing rapidly. Support for legalizing pot in the U.S. has grown to its highest point ever in recent months: 58 percent of Americans now back legal weed, according to Gallup's latest poll.
Twenty states and the District of Columbia have some form of marijuana legalized, be it medical or recreational, and dozens more are expected to legalize the plant in the coming years. And marijuana users are expected to buy a lot of pot, too. One study has predicted an $18 billion dollar marijuana industry nationwide by 2018.
Leafly, which can be used as both an app and through its website, catalogues both medical and recreational marijuana businesses. Users can set up a personal account, track their usage, rate and review strains, add to a live journal tracking the strains that work for them and which don't, mark their favorite strains and follow their preferred dispensaries.
Shoppers can easily find effects, rankings, flavors and more for each strain in Leafly's index: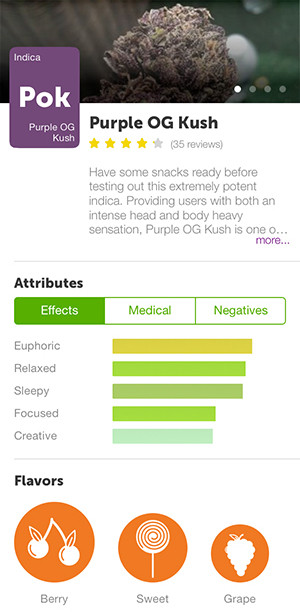 Here's one of Leafly's strain ratings, a 4-star rated sativa called Purple Diesel:
Purple Diesel is a wonder among sativa strains. While most of the effects are similar to traditional sativas (energizing, uplifting, focused), Purple D is also an exceptional strain for pain relief. A sneaky cross between Purple Kush and Sour Diesel, this strain takes a while to fully kick in. However, once the effects begin to present themselves, users are struck by a type of giggly, euphoric bliss. A favorite among daytime users, Purple Diesel features a sour, fuel-like aroma. For those interested in growing, this strain has an early flowering time of around 8 weeks and features dense buds with deep purple leaves.
For medical marijuana patients, Leafly is a particularly helpful tool to find the right strain and then pair it with symptoms or a certain condition. Patients can search for a particular ailment, like "anxiety," and find medial strains that are helpful for that or search for an kind of effect they are seeking, like "energetic" or "sleepy."
One feature Leafly does lack is doctor listings for medical marijuana patients, but Scott says that's coming soon.
"We're adding doctor listings to the website, so once a patient finds their doctor, they'll be able to find a particular strain for their condition or for the effect they are looking for and then we can also connect them to a dispensary," Scott said.
ALSO ON HUFFPOST:
PHOTO GALLERY
BEFORE YOU GO
16 Facts About Marijuana And The U.S. Economy
PHOTO GALLERY
16 Facts About Marijuana And The U.S. Economy