Nosh Deli in Albuquerque, N.M., has been targeted again after vandals initially defaced the Jewish business two weeks ago. Now the FBI are investigating the attacks, which included anti-Semitic slurs written on mailing labels and stuck to the front of the deli.
Owner Alisa Turtletaub told KOB 4 News that "People are just disgusted. They're disgusted that this is happening."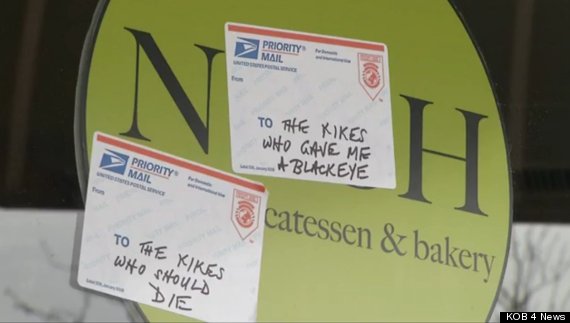 The initial labels defacing Turtletaub's business, Nosh Deli
Susan Seligman, the New Mexico regional director of the Anti-Defamation League, told the Jewish Daily Forward that it's the first reported anti-Semitic threat in the state for the last couple of years.
The FBI has set up a hotline to help discover the identity of the vandals.
Turtletaub isn't running scared, however. She spoke out to the vandal via KOB 4, declaring, "Don't hide behind a postal sticker. If you have such a problem, then show your face."
BEFORE YOU GO
PHOTO GALLERY
Badass Women in the Bible