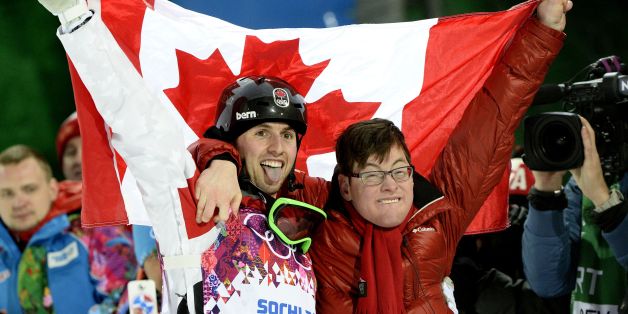 Freestyle skier Alex Bilodeau defended his Olympic gold medal in men's moguls late Monday, becoming the first Canadian to take home two golds in his event.
What happened next, however, touched the hearts of many.
After finishing what he called the "best run of [his] career, the 26-year-old immediately rushed to the sidelines to embrace his biggest inspiration: his brother Frederic, who has cerebral palsy.
(Story continues below)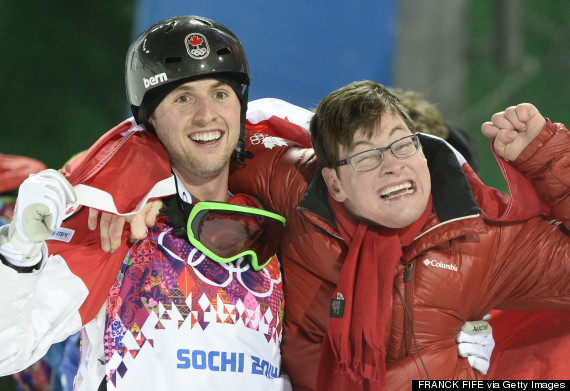 Bilodeau said his brother inspired him to pursue his dream of taking home another gold medal. (He previously won the gold at the Vancouver Olympics in 2010.) So for the second time, he dedicated his win to Frederic.
"The motivation that he has, if he had had the chances like I did, he would have been four times Olympic champion. He's a great inspiration, a great person and he's going to be an inspiration for me after my career also," Bilodeau told NBC. "I always complain, and he has every reason in the world to complain and he never does. And why is that? He enjoys life, he takes the best out of it."
Perhaps unsurprisingly, this isn't the first time the athlete has spoken kind words about his beloved sibling. In 2010, he told the Denver Post that Frederic was his "everyday inspiration."
"Every day I feel lucky to be a normal person who has that chance to go after his dream. He does not have that chance. And for respect to him, I need to go after that," he told the outlet. "Every step is so hard for him in life and I have an easy path and I need to go after and do the best I can just out of respect to him."
This is the third Winter Games for Bilodeau, who hails from Montreal. He has competed in Vancouver and Turin, where he finished 11th in the men's moguls in 2006.
BEFORE YOU GO
PHOTO GALLERY
2014 Sochi Olympics Photos