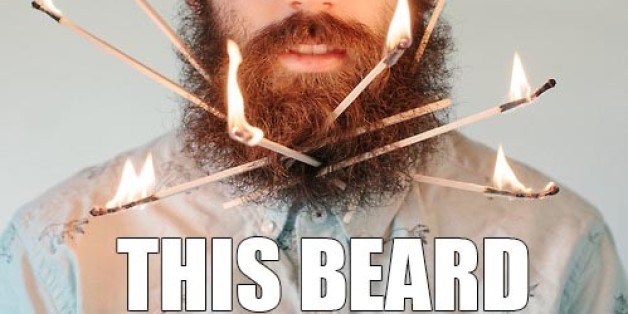 When photographer Stacy Thiot and her husband Pierre Thiot created Will It Beard, a Tumblr gallery of beard art, they might not have considered that these photos could set a whole new standard of excellence for modern facial grooming. But when Reddit user AdamTScott uploaded the pictures to Reddit, the photos quickly gained popularity. Stacy and Pierre's fanciful additions of cocktail umbrellas, gummy worms and Legos to Pierre's facial hair take his basic beardly-do to an entirely new level. We guarantee it will inspire you to new levels of stubbly greatness. Take a good look at these jaw-dropping photos, and follow the project on Instagram. One day, this beard just might be famous:
On festive occasions, this man has been known to stick candles in his beard:
Treating your beard like a birthday cake is all fun and games until somebody brings out a match...
He knows that a true beard isn't afraid to play with fire:
Well, then it's still fun and games. Warning: HuffPost does not endorse setting your beard on fire, even in the noble pursuit of great facial hair art.
He avoids a beardly rut with an gravity-defying design of dried noodles:
His beard isn't ashamed to partake in more domestic pursuits.
He shows how a whimsical garden of Dum Dum lollipops makes for a sweet first date 'do:
The modern man's bouquet of flowers?
He brings a childlike aesthetic to the testosterone-fueled world of beard grooming:
Introducing "Lego Movie: The Sequel." Setting: this man's jawline.
He even reappropriates boring kitchenware:

These straws weirdly evoke a rainbow centipede struggling to escape.
He breathes new life into your favorite childhood candies:
It takes a beard very confident in its masculinity to sport this Gummy Worm look.
He sports cocktail umbrellas for a tropical-chic style:
Why bring the beard to the tiki bar when you can bring the tiki bar to your beard?
He uses toothpicks to create a porcupine effect:
An easy way to protect your personal bubble while riding on public transit.
He swaps in hair bows for a less eye-piercing yet equally sculptural effect:
This low-key daytime look goes with any outfit!
Yes, this beard has left a five o'clock shadow looming over every other goatee or mutton chop in the land. His fanciful accessorizing has taken his facial fuzz to new beardly heights, the likes of which most Movember whiskers can only dream. The only problem: We need more!
BEFORE YOU GO
PHOTO GALLERY
The Many Beards Of Isaiah Webb