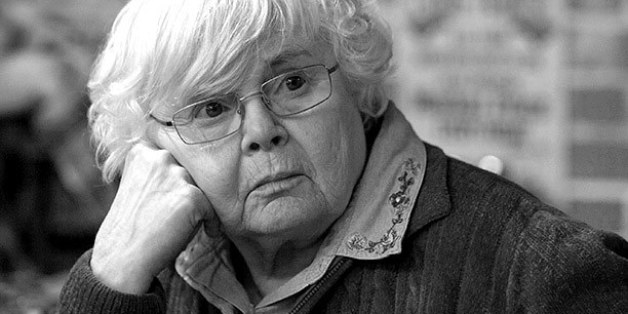 When the legendary actress Ruth Gordon won her first Academy Award (for "Rosemary's Baby") at the age of 72, she began her acceptance speech with a comment I've never forgotten. Planting her golden statuette on the podium, she smiled at the audience and said, "I can't tell you how encouraging a thing like this is."
The line drew laughs from the Academy crowd, of course, but the message was loud and clear: that life is one long journey, and every time you put yourself out there is a new adventure.
Well, now we have our own 84-year-old-rookie: Six decades into her career, actress June Squibb was nominated -- for the first time -- for a Best Supporting Actress Oscar, for her pitch-perfect performance in Alexander Payne's "Nebraska," an honor that caps the nearly three dozen awards and nominations she has already racked up for her work in the film.

Like Ruth Gordon, June is hardly a newcomer. Born in 1929, she began her acting career on stage, appearing in the original New York production of "Gypsy" (with Ethel Merman) and other Broadway, off-Broadway, touring and summer stock shows. Her stage work continued for the next three decades -- when at the age of 60, she landed her first film role in Woody Allen's "Alice." Since then, movie and television assignments have poured in -- but it wasn't until "Nebraska" that all of the planets aligned.

Since launching our "It Ain't Over" series, we've held fast to our conviction that it's never too late to keep dreaming, and that "impossible" is just something that hasn't happened yet. June Squibb is living proof of that.

I caught up with June by phone after her nomination -- and in the words of Ruth Gordon, "I can't tell you how encouraging a thing like this is." Here's our conversation. --.M.T.
* * *
Marlo Thomas: Some of the press has been saying that you didn't start acting until you turned 60, but that's not really what happened. You've been at this your whole life. And yet, as successful as you've been -- and you really have worked steadily -- this is an entirely new level. Did you ever imagine that someday you'd have this kind of explosion in your career?
June: Well, I always felt that I was a good actress; and when I started doing films -- and the roles started getting bigger -- I thought that something like this might happen one day. Or at least I hoped it would.
Marlo: Making the move from stage to screen was obviously the key to your new success, but it must have been a little frightening.
June: I knew a lot of New York stage actors who had begun doing movies, because there was so much film work coming into New York at the time. So I asked my agent to look around for me, and he got me an audition with Woody Allen for "Alice" -- and I got the part.
Marlo: What a way to start. Were you apprehensive?
June: Not really, because I love Woody Allen -- he's wonderful -- and everyone was so dear to me. The crew was especially great. I felt like, if they could've, they would've carried me around the set so I didn't trip over anything!
Marlo: But the excitement didn't end with Woody -- right away, you were cast in two more films.
June: Right. The same casting lady who got me into "Alice," cast me in Martin Brest's "Scent of a Woman." And that got me into Martin Scorsese's "The Age of Innocence." So, very quickly, I had done three films.
Marlo: Coming relatively late in your career, do you think this was just random timing, or could it be that you'd finally arrived at the perfect age for your work -- meaning, that you'd hit your sweet spot?
June: That's a great way of putting it because I think that's probably very true.
Marlo: You eventually moved to Los Angeles and began racking up the credits -- leading to "Nebraska," which earned you the Academy Award nomination. When I saw the film, I couldn't wait for you to come back on screen again -- you were just delicious. When you read the script, could you tell that this role was really going to do it for you?
June: Yes -- I knew people would be watching it. And I'm so glad you used the word "delicious," because that's exactly what I thought about the character the first time I read the script. I knew she was a very special role.
Marlo: And you made her even more special -- part firecracker, part potty-mouth, and completely adorable. Your scene in the cemetery is already a classic. Did you have to audition for the role?
June: Well, yes, I did, because [director] Alexander Payne didn't think I could do it. He thought I was still that sweet, little lady he'd cast in "About Schmidt." But then, for some reason, he changed his mind. I was in New York doing a workshop, and they sent me the script and asked me to tape a scene from it. So I did. I wound up doing it two different ways because he wasn't there to direct me.
Marlo: That was very smart of you.
June: Well, it ended up being very smart. He loved the fact that I had done it two different ways. The first way is what you see on screen; the other one was a little straighter, not as volatile. Quieter.
Marlo: And he went for the more volatile one?
June: He did. I think we both did.
Marlo: Does Alexander do a lot of takes?
June: Not really. The only time he did a lot of takes was the scene in which I use the f-word to the family, and that was only because he wasn't entirely sure how he wanted it. So we tried it a lot of different ways.
Marlo: What was it like finding out you'd been nominated for an Oscar?
June: My son was staying with me, and we got up early to watch the nominations on TV. As we started to watch, he came over and put his arm around me, and I knew that meant that that whatever happened, it was alright with him. And then they called my name, and suddenly my picture was on the screen. I said, "Harry, did they really just call my name?" He said, "Yes, Mom they did. You did it."
Interview Continues Below Slideshow
PHOTO GALLERY
June Squibb
Marlo: Oh, how wonderful.
June: And then a lot of hugging and kissing and crying went on!
Marlo: I'll bet. It must feel better to get this kind of affirmation at this point in your life. It's a boost. You don't need this at 25. You need it now.
June: Yes, you need it now. And it will probably make a difference in my career as far as the roles I'm offered, and that would be great -- I really do want to keep working.
Marlo: Of course, you do! Someone once asked a Bob Hope if he was going to retire, and he said, "Retire to what?"
June: That's exactly the way I feel!
Marlo: When you work with the younger actors, what do you notice that makes them different from older actors?
June: Well, energy is one thing. A younger person is always more energetic. But I think that many of us who are older know how to pace ourselves. Remember, I grew up doing eight shows a week on stage, so I learned early on how to find the energy to do what has to be done.
Marlo: A lot of great actors have done their best work in their senior years. Henry Fonda didn't win an acting Oscar until he made "On Golden Pond," when he was 76.
June: Exactly. And Christopher Plumber, who's the same age as me, didn't win his until he was 82.
Marlo: Alan Arkin once commented that the reason he doesn't do stage work anymore is because it's hard to remember the lines. Do you relate to that?
June: No, thankfully, because I don't have that trouble. And I'm lucky -- many friends of mine have had to stop working because of that. But I do exercises -- Sudoku and crossword puzzles and any kind of puzzling I can get my hands on.
Marlo: I once read that John Gielgud, who worked on stage into his 90s, said that his trick was to memorize a different sonnet every day.
June: He kept it going.
Marlo: He kept it going. Let me ask you, as exciting as all of this is, do you ever feel any sense of frustration, like, "Why did it take so long to happen?"
June: No, I truly don't. I feel that it happened when it should have happened; and just to have been chosen as one of the five nominees is really phenomenal.
Marlo: It is -- and the offers have already started coming in. Word has it you're going to be appearing on "Girls" as Lena Dunham's grandmother.
June: Yes. We already shot it, and I think it's going to be the ninth show of this new season. I respect Lena Dunham so much. She's so smart, and she handles her responsibility beautifully.
Marlo: And did you have fun on the set?
June: Yes -- we improvised a lot.
Marlo: Wow, you're a powerhouse. Final question: A lot of women in our audience are over 40, and many of them talk about ageism -- how cultural assumptions about their age keep them from being able to achieve the things they want to do. As someone who's still going strong at 84, how do you keep this kind of age discrimination from driving you crazy?
June: I always say that every law is meant to be broken -- and I really feel that way. When people start making these statements about what's right or wrong for you, what you should or shouldn't do, I just choose not to listen to them. I ignore them. I do things the way I feel. And if one day I realize that, physically, I cannot do this any longer, then I'll stop. But not until then, I'll keep going.
Marlo: And if somebody says, "Sorry, you're too old …"
June: I'll choose not to believe them. I truly mean that, Marlo. I really don't relate to age at all.
Add Marlo On Facebook:
Follow Marlo on Twitter:
Sign up to receive my email newsletter each week - It will keep you up-to-date on upcoming articles, Mondays with Marlo guests, videos, and more!