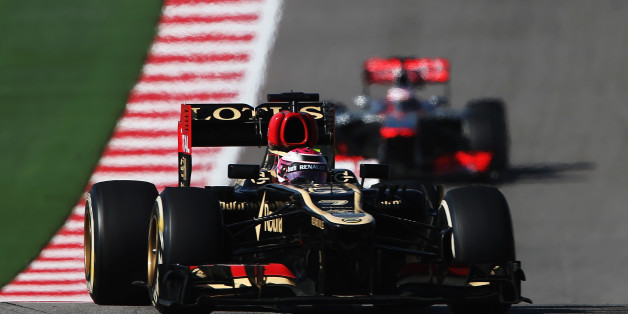 While the NFL considers accepting its first openly gay player, the Lotus Formula One team is apologizing for a tweet that appeared to be in support of LGBT rights.
According to the BBC, the Lotus F1 team sent out a tweet on Friday wishing "all athletes a successful 2014 Olympic Winter Games #Sochi2014." The message was accompanied by a photo of two men kissing.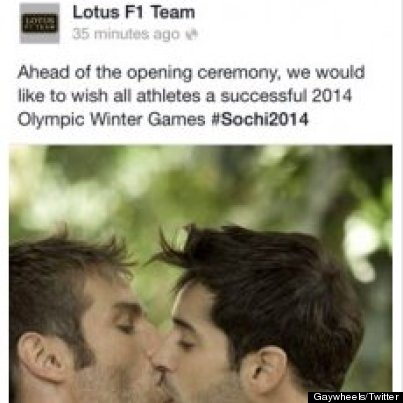 The tweet was quickly deleted and deemed "unauthorized" by the team.
Russia, host of the 2014 Winter Olympics, adopted a law last year, "prohibiting vaguely defined propaganda of non-traditional sexual relations" that has, for all intents and purposes, institutionalized homophobia into the nation.
According to the BBC, the tweet "upset top management and shareholders" of Luxembourg-based investment and financial advisory firm Genii Capital, which owns the Lotus F1 team, because it "was causing problems for the business." (A Russian company is expected to purchase a 10 percent stake in the team, the BBC notes.)
The Huffington Post reached out to Genii Capital to find out how an unauthorized tweet went live on the Lotus F1 team account but did not receive an immediate response.
However, as Gaywheels notes, the "unauthorized" nature of the tweet shouldn't come as a surprise, as "investment firms [like Genii Capital] aren't really about social activism anyway."
Lotus is one of five automakers the automotive resource website has listed as neither gay- nor non-gay friendly, due to the lack of transparency regarding the company's workplace policies toward LGBT employees. The other carmakers on the list are Ferrari, Lamborghini, Maserati and Tesla.
BEFORE YOU GO
PHOTO GALLERY
F1 testing at Jerez