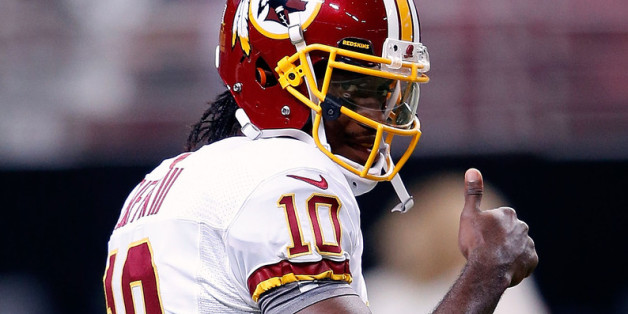 Robert Griffin III may have had a disappointing season last year, but that doesn't mean he's keen on disappointing his fans.
Even when that means fielding wedding invitations from fans you're unlikely to meet, carefully checking off the "sadly decline" response option, then signing it with a flourish. Zach Curley and his fiancée, Teresa Daley, sent the Washington Redskins quarterback just such an invite, and were amazed to receive a prompt response.
Thanks @RGIII for the lightning quick response!You are a true superstar, I wish you nothing but the best!Made my day! pic.twitter.com/KxDnvXCvnI

— Zach V. Curley (@marylandterps01) February 10, 2014
Reached for comment by The Washington Post, Curley said he was "shocked."
"Just that somebody as big as RGIII would take the time, right away, to write something back — I thought that was really cool," Curley told the Post. "Obviously I'll be a Redskins fan all my life, but he will be my favorite player from now on, until the end of time."
RGIII even followed up on Curley's thank-you response with an understated tweet, writing back, "No prob man enjoy."
Last year, Peyton Manning responded to a fan's wedding invite in a similarly classy manner.
BEFORE YOU GO
PHOTO GALLERY
Best 2013 Sports Photos