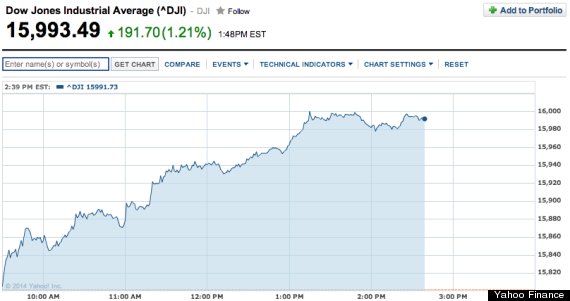 * All 10 S&P sectors rally after Yellen statement
* House Republicans aim to pass debt limit bill
* Sprint and CVS climb after results, Dean Foods down
* Indexes up: Dow 1.2 pct, S&P 1 pct, Nasdaq 1 pct
By Ryan Vlastelica
NEW YORK, Feb 11 (Reuters) - U.S. stocks rose 1 percent in a broad rally on Tuesday, with investors relieved the Federal Reserve wouldn't make any changes to its schedule for trimming its market-friendly stimulus.
All 10 S&P sectors rose on the day, with most climbing more than 1 percent. The benchmark index is now 1.6 percent away from its record closing high, recovering much of its recent weakness, which took the index down as much as 6 percent.
In her first public comments as Fed chief, Chair Janet Yellen emphasized continuity in the central bank's policy strategy of cutting asset purchases by $10 billion a month, saying she strongly supports the approach of her predecessor, Ben Bernanke.
Yellen also said that while the unemployment rate has fallen recently, labor market conditions needed to improve further.
"Nothing unexpected was said, but the market is very encouraged to hear it confirmed that the policy of being accommodative will continue," said Weyman Gong, chief investment strategist at Signature in Norfolk, Virginia.
The policies have been credited with fueling the market's steep gains in 2013, and they are expected to keep a floor under equity prices for as long as they continue.
The Fed first announced a slowing in the bond-buying program in December, followed by another one in January. Had that pace been slowed, it may have raised concerns that the economy was still not strong enough to grow on its own.
In other positive news, Republican leaders in the U.S. House of Representatives caved in to demands by President Barack Obama and agreed to advance legislation raising Washington's borrowing authority, removing a potential market headwind.
The Dow Jones industrial average was up 192.24 points, or 1.22 percent, at 15,994.03. The Standard & Poor's 500 Index was up 18.58 points, or 1.03 percent, at 1,818.42. The Nasdaq Composite Index was up 40.85 points, or 0.98 percent, at 4,189.03.
The S&P 500 rose above its 50-day moving average for the first time since January 24, a technical resistance level that could fuel further gains if convincingly held.
"The market's valuation is at a high level, probably a little too high," said Gong, who helps oversee $3 billion in assets. "Our economy is growing modestly, but we don't expect earnings will continue to expand at their current pace."
Sprint Corp, the No. 3 U.S. mobile provider, reported quarterly revenue ahead of analysts' expectations and said it added wireless subscribers in the fourth quarter. The stock was up 2.5 percent to $7.88.
CVS Caremark Corp rose 2.6 percent to $68.66 after the company posted higher quarterly profit as it processed more prescriptions.
Of the 357 companies in the S&P 500 that have reported earnings through Tuesday morning, 67.8 percent have beaten profit expectations, above the long-term average of 63 percent, according to Thomson Reuters data. Almost 66 percent have topped revenue forecasts, above the historical average of 61 percent.
On the downside, both Dean Foods Co and ConAgra Foods slumped after giving weak outlooks. Dean warned of a first-quarter loss while ConAgra cut its full-year outlook. Shares of Dean slumped 8.2 percent to $13.96 while ConAgra lost 6.5 percent to $29.02.
Infloblox Inc plunged 48 percent to $17.28 after the network equipment maker estimated second-quarter revenue below analysts' average forecast.
Cadence Pharmaceuticals Inc surged 26.4 percent to $13.99 after the company agreed to be acquired by specialty pharmaceuticals company Mallinckrodt Plc said for about $1.3 billion. Mallinckrodt climbed 10.2 percent to $65.35.
BEFORE YOU GO
PHOTO GALLERY
11 Lies About The Fed