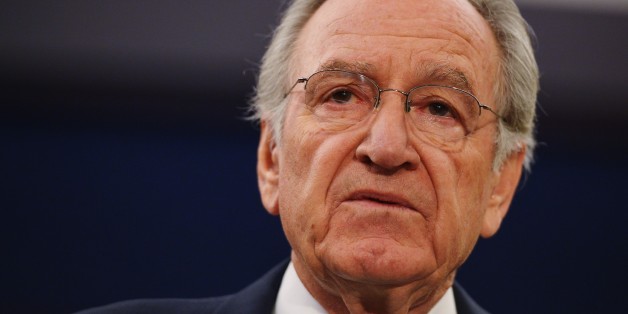 Almost nothing happened to a North Carolina school after the discovery that personnel repeatedly used mechanical restraints on 18 special needs students, including strapping them into chairs. Administrators later developed a training program on restraining students, but didn't require employees to attend.
In Georgia, on the other hand, the same practice is against the law.
An investigation released Wednesday by the Senate Health, Education, Labor And Pensions Committee details the use of restraints and seclusion in schools around the country, and the irregular nature of state laws surrounding the practice. The report comes on the same day that the committee chairman, Sen. Tom Harkin (D-Iowa), is announcing his introduction of the Keeping All Students Safe Act, which would outlaw most uses of restraints and seclusion in schools.
Harkin introduced a version of the act in 2011, but it failed in committee. Harkin, who has said he will retire when his term ends this year, previously held hearings on the issue.
The committee's 54-page report, titled, "Dangerous Use of Seclusion and Restraints in Schools Remain Widespread and Difficult To Remendy: A Review of Ten Cases," is meant to bolster support for the legislation. It details 10 cases of extreme seclusion and the difficulties the students' families faced trying to report abuse.
U.S. Department of Education data showed at least 66,000 cases of seclusion and restraint in schools during the 2009–2010 school year, according to the report. But only 18 states require that parents be notified when their child has been secluded or restrained, according to the report, and current law makes it difficult for families to seek legal remedies if a child has been hurt or traumatized by the practice.
"This review suggests that even when children have died or suffered physical harm or psychological trauma, the lack of a clear federal law regarding appropriate interventions results in families failing to prevail in court and failing to bring about changes in policy," the report says.
The report recommends that federal law limit seclusion and restraint to situations where a child poses imminent danger to school personnel or students. In some cases outlined in the report, students were secluded or restrained even though they showed no signs of aggression.
Students with disabilities are disproportionately secluded and restrained, according to the report. Cindy Smith, public policy counsel for the National Disability Rights Network, said the group has supported the Keeping All Students Safe Act in the past, and would do so again.
"What we see is a patchwork of state laws that don't provide adequate protections," Smith told The Huffington Post over the phone. "Some states have taken action, but when you look at the holes, they're not adequate to protect children."
In the past, the American Association of School Administrators has resisted restrictions on schools' use of seclusion and restraints. According to a 2012 report from the organization, "the use of seclusion and restraint has enabled many students with serious emotional or behavioral conditions to be educated not only within our public schools, but also in the least restrictive and safest environments possible."
BEFORE YOU GO
PHOTO GALLERY
Teacher Controversies