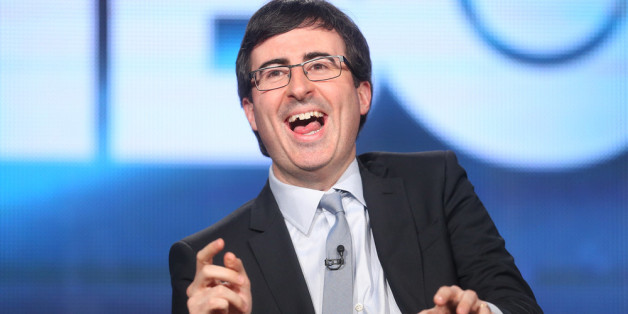 It's really happening, you guys. After months of speculation, John Oliver's hosting gig over at HBO is starting to take shape.
The network announced Wednesday morning that "Last Week Tonight With John Oliver" will debut at 11:00pm, Sunday, April 27. The show will be a half hour and air 24 episodes in 2014. It's executive produced by Oliver, Tim Carvell, James Taylor, Jon Thoday, and produced by Liz Stanton.
It was announced in November that Oliver, a correspondent at "The Daily Show With Jon Stewart" since 2006, would be leaving Comedy Central to helm his own show. Oliver had earned rave reviews for his summer stint sitting in for Stewart while he was off shooting his directorial debut "Rosewater". His last segment of "The Daily Show" taped on December 19, when Stewart surprised Oliver with a retrospective of his years on the show.
It was reported that showrunner and EP Carvell, also a veteran of "TDS", would be making the move with Oliver in December as well. While no official announcement on the rest of the writing staff has been released, according to various social media profiles, the staff so far includes Jeff Maurer, Juli Weiner and Jill Twiss.
Watch Jon Stewart's goodbye to John Oliver below.
BEFORE YOU GO
PHOTO GALLERY
John Oliver GIFs