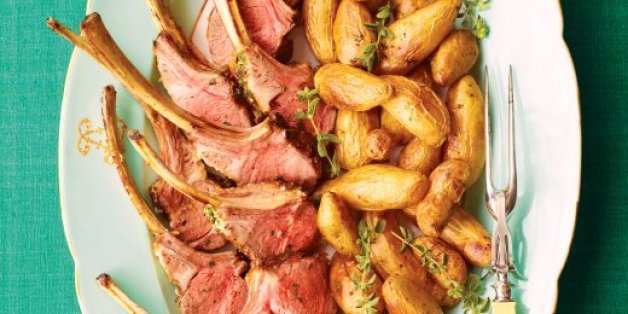 Occasionally, you might get the itch to host a dinner party. But, maybe there is a still small voice in the back of your head that says, "There's nothing I can cook for a couple of friends that will be impressive enough but still pretty easy to do." That's where you're wrong, voice. (Seriously, that voice is such a jerk, and we would all do well to learn to cook it out of our heads.)
The truth is that roasting a whole rack of lamb to a perfect medium rare, carving it correctly and presenting it to your totally impressed friends is possible in under an hour. Even if you want to get fancy and put a crust on it. Throw in a couple of sides and enough wine to incite merriment and you've got yourself one hell of a dinner party.
(Note: the only thing that occasionally makes cooking a rack of lamb a little tricky is if you buy one that hasn't already been Frenched. Ninety percent of the racks you'll encounter have already had this done, and your butcher will gladly do it for you, but if you're intrepid and want to try it on your own, here is exactly how to French a rack of lamb.)
PHOTO GALLERY
Rack of Lamb Recipes (List)
Want to read more from HuffPost Taste? Follow us on Twitter, Facebook, Pinterest and Tumblr.
BEFORE YOU GO
PHOTO GALLERY
Leg of Lamb Recipes