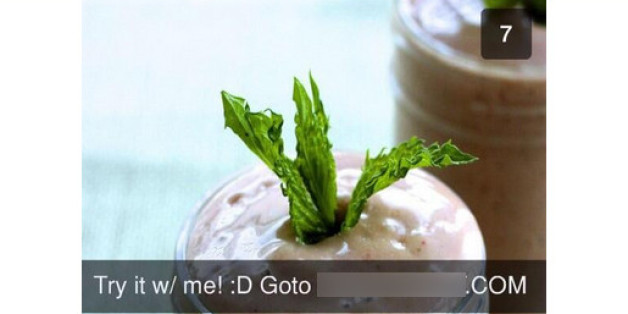 Snapchat may have another security issue, but at least this one is delicious-looking (but still dangerous).
On Monday, Wired's Joe Brown reported that his account had been sending unsolicited "snaps" -- the app's signature disappearing photos -- of smoothies to his friends with the URL of a spam website attached. (No matter how tempting the smoothie looks, it is strongly recommended you do not visit the URL.)
He isn't alone. A Twitter search shows that other Snapchatters have also experienced the problem:
mad at snapchat for giving me that fucking fruit food shitty virus -.- go away and annoy someone else !

— Kelly (@KellyU3) February 12, 2014
Dear @maxwood

You seem to have a snapchat virus that is getting beyond ridiculous! I don't want to look at fruit.

Yours truly

Jim Carrey

— Mouth (@shitbartender) February 12, 2014
Anyone want to tell me why my snapchat is sending all my contacts pictures of smoothies etc whilst I'm asleep? What's going on

— Harriet Donald (@HarrietDonald) February 12, 2014
"It's mostly cases where someone has your email address and password and gets in on the first try," a Snapchat spokesperson told Wired. "We're not seeing any evidence of brute-force tactics."
"Yesterday a small number of our users experienced a spam incident where unwanted photos were sent from their accounts," a Snapchat spokesperson told the Huffington Post in an email. "Our security team deployed additional measures to secure accounts."
While the depth of the breach is currently unknown, the hack is a reminder to practice password security by creating strong passwords that don't repeat across your different accounts. Advise friends from whom you have received smoothie snaps to change their passwords, and be wary of third party Snapchat apps that ask for your account information. There's only so much a company can do to protect your security if you have poor password practices.
Whether or not Snapchat is at fault, the hack is the latest growing pain for a company that reportedly turned down a $3 billion acquisition offer from Facebook in November. In January, the startup faced scrutiny for ignoring warnings of a potential vulnerability that led to the hacking of 4.6 million members names and phone numbers. It didn't help that the company took over a week to apologize. Earlier this month, Snapchat acknowledged a separate loophole that would allow a hacker to crash a device by sending it thousands of photos at once.
UPDATE: This piece has been updated with a statement from Snapchat.