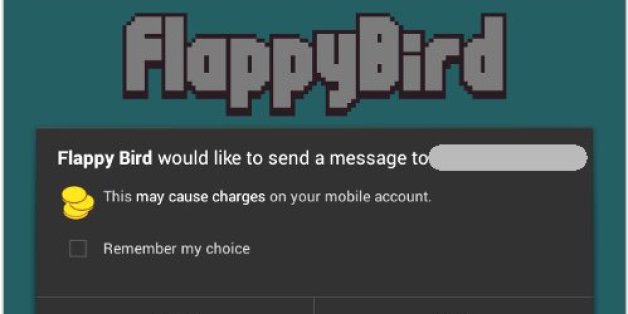 Desperate times do not call for desperate measures.
If you went hunting for a "Flappy Bird" clone after the demise of the infuriating but addictive game, you may have downloaded a malicious app.
According to Mashable, malware-filled versions of "Flappy Bird" are popping up on alternative Android app markets. These phony apps look identical to the original version, down to the very same icon. Once downloaded, however, the apps will commandeer your device's messaging abilities, racking up charges on your account by messaging premium numbers.
Sophos' Naked Security blog breaks down the differences in the permissions the apps asks for when downloaded, noting that the new malware versions ask to send messages on your behalf.
This is a great way to spot a fake.
The original "Flappy Bird" never asked to send messages and never charged for anything; the developer's revenue came from in-game ads.
Naked Security notes that because these malware versions are popping up on third-party marketplaces, most Android users won't be able to download them anyway, since all Android phones' default settings prevent users from downloading third-party marketplace apps. (Check your settings by going to Settings>Security.)
At the end of the day, "Flappy Bird" is gone. We all must mourn in our own way, but if you think you've found a clone to keep you busy, and if it looks too close to the original, it's probably a trick. Opt for a safer alternative instead.