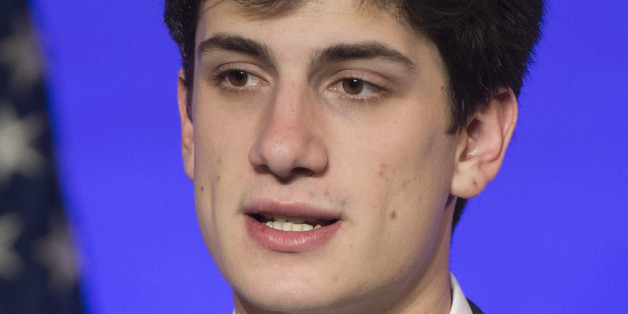 John F. Kennedy's grandson, Jack Schlossberg, did not come out as gay, despite what the Internet might think.
Queerty was the first to report that Schlossberg, 21, came out in a post titled "Being Gay at Yale" for the Yale Herald's Bullblog.
He reportedly tweeted a link to the piece on Thursday, Feb. 13, from the account @JJSchlossberg. By the time Queerty got its hands on the tweet, it said the article had disappeared. @JJSchlossberg supposedly tweeted that "our senior editors ... took it down. I have no idea about the reason behind it. I'm sorry." (That Twitter account was not working at the time of this writing.)
Twitter users began criticizing Yale for seemingly silencing Schlossberg.
The Huffington Post reached out to the Yale Herald to find out more about the brewing controversy, and apparently it was all a hoax.
"So the Twitter account isn't actually Jack Schlossberg's, but of an imposter and the same goes with the article," a spokesperson for the Yale Herald told HuffPost in an email Thursday afternoon. "Again, neither the article nor the Twitter account (which has since been reported) are real. Other sites that have reported on this [thus] far are reporting misinformation."
Gawker spoke with Schlossberg, who clarified that he isn't gay.
"The article was written by someone who impersonates me online," Schlossberg told Gawker in an email from his Yale University account. "I did not write the article and, for the record, am not gay. Thanks." He added, "I believe the link [to the article] was a fake in the first place."
Schlossberg is the son of Caroline Bouvier Kennedy and designer Ed Schlossberg.
UPDATE: The Bullblog tweeted about the article Thursday night, making it clear it was a fake.
To clarify: The account that shared a fake link, "Being Gay at Yale" doesn't belong to Jack. No such article exists. Happy Valentine's Day!

— The Bullblog (@thebullblog) February 14, 2014