As it continues to get hotter in Sochi (literally and figuratively), winter storm Pax has put the East Coast in a deep freeze. This is THE MORNING EMAIL for Thursday, February 13, 2014.
Buzzing
Winter storm Pax's path of beautiful, beautiful destruction
Comcast and Time Warner Cable's merger
Derek Jeter's retirement after the upcoming MLB season
The Olympics: Athletes playing Hot or Not (not sure how that works -- they're all really hot), those golden Russians rocking golden pairs skating outfits and the elusiveness of the Olympic threepeat.
TOP STORIES
PAX PACKS A PUNCH The winter storm is dumping 18+ inches on the Northeast today. The South got the brunt of its anger yesterday, and snow days abound for those up and down the East Coast. Seriously, these kids will be in makeup school 'til July with all these polar vortices. Over 10,000 flights have been canceled since Monday as the country hunkers down for the snow longhaul. [The Weather Channel]
GOOD JANUARY FOR OBAMACARE People probably had more time to register with all these snow days. "For the first time since the federal and state health-insurance marketplaces opened early last fall, the number of people who signed up for coverage exceeded the government's expectations for the month in January, bringing the overall total to about 3.3 million." [WaPo]
OLYMPICS: U.S. SWEEPS SLOPESTYLE The U.S. owned slopestyle, taking all three spots on the podium, thereby closing the medal gap with Norway. Russia rejuvenated their pairs ice skating domiance by taking gold and silver (the gold winners even wore gold for their routine--subtle) and as the temperatures skyrocket in Sochi, Olympic athletes' Tinder use continues to rise. Can't imagine there are too many "Not" swipes. [Daily Intelligencer]
COMCAST TO ACQUIRE TIME WARNER Because your cable customer support wasn't terrible enough. "Comcast has reached an agreement to buy Time Warner Cable in a $45 billion deal that, if it goes through, would create by far the biggest cable company in the United States." [HuffPost]
Stateside
BREAK OUT THE HARD HATS "Home Depot Inc. said Wednesday it will hire 80,000 workers in the U.S. as it prepares for spring, its busiest sales period, matching last year's hiring level. Home Depot and peer Lowe's Cos. have been a rare bright spot in the retail sector as they continue to benefit from the U.S. housing recovery. Rising home prices and improvements in home construction and new home sales have led homeowners to open their wallets for remodeling projects or big-ticket items." [WSJ]
WE LIKE OUR MEALS WITH A SIDE OF GENETIC MODIFICATION "Even as some U.S. consumers reject foods containing ingredients from genetically modified plants, farmers continue to embrace the technology. In 2013, crops grown from seed engineered to withstand weed killers, kill pests or resist diseases made up 11.7% of fields planted worldwide, a report released Thursday says." [USA Today]
HERE'S A MAP OF US STATES RENAMED TO MATCH COUNTRIES WITH SIMILAR GDPs Proud to see our home state of Missouri is raking in as much as Finland. Craziness. [Time]
International Intrigue
ESCAPE FROM ABU GHRAIB "A series of daring but little noticed breakouts from Iraqi prisons has freed hundreds of hardened militants who are now among the leaders and foot soldiers of the radical Sunni groups operating in neighboring Syria and, increasingly, in Iraq itself." [NYT]
JOHN KERRY HOLDS SEOUL TALKS, DID MOST OF THE TALKING "Secretary of State John Kerry held talks in Seoul Thursday on curbing North Korea's nuclear programme, as the two Koreas locked horns at rare, high-level talks over looming South Korea-US military drills." [AFP]
HOLD ONTO YOUR LUNGS: SMOG LEVELS IN BEIJING ARE DISGUSTING The air in Beijing is starting to feel a bit like the Sterling Cooper offices circa-1961. "Severe pollution in Beijing has made the Chinese capital 'barely suitable' for living, according to an official Chinese report, as the world's second largest economy tries to reduce often hazardous levels of smog caused by decades of rapid growth." [HuffPost]
In cat news, here's one named Patches that won't give up the TV remote.
Buy! Sell! Buy!
POST OFFICE TO BECOME YOUR LOCAL BANK? Because you want to wait in line for longer for the best customer service around. "Many Americans say they would support the U.S. Postal Service expanding into basic banking and financial services and would sometimes use those services if they were available, according to a new HuffPost/YouGov poll. Expanding post office services to include banking was recently explored in a report by the Postal Service inspector general, and is backed by Sen. Elizabeth Warren (D.-Mass.) as a way to bring affordable basic banking services to low-income neighborhoods." [HuffPost]
YOUR PILOT COULD BE ON FOOD STAMPS Turns out airline pilots salaries aren't flying so high. [WSJ]
BUFFET MOVING ON FROM GRAHAM "US business tycoon Warren Buffett is in talks to exit his investment in Graham Holdings, former owner of The Washington Post, after an association of 40 years. Buffett's Berkshire Hathaway Inc. and Graham Holdings are negotiating a stock swap…[that] would involve Berkshire handing 1.7 million shares of Graham Holdings, a stake of about 28 percent and worth about $1.1 billion, back to the company." [Business Insider]
TAKING STOCK PepsiCo is expected to fizzle out today in its Q4 earnings call with the announcement of a 7% loss in profits.
In nerd news, here's the perfect ring for your favorite Trekkie.
Scouting Report
MEDAL COUNT Norway's still in the lead with 13 total medals, but U.S.'s slopestyle medal dominance means we're now in second with 12. Canada and the Netherlands are close behind with 10. [NBC]
THIS SEASON TO BE DEREK JETER'S LAST "Suddenly Derek Jeter is going, going, just about gone. A man of few words said goodbye in a 15-paragraph Facebook post, a poignant love letter to the fans who served as the soundtrack for one of the greatest careers a New York Yankee has ever had." [ESPN]
LEBRON PROVED ONCE AGAIN THAT HE IS THE MAN Doesn't get more clutch than this game-winning fadeaway three with .1 seconds left on the clock. [Yahoo]
THE OLYMPICS WEREN'T ALWAYS SO HIGH-TECH In the 1932 Lake Placid games, the opening ceremony featured a man on stilts skating through a paper poster. Yep, like your high school basketball game days. [Gizmodo]
WHAT IF THERE WERE AN OLYMPICS FOR LAZY PEOPLE? For one thing, we'd definitely take home the gold in competitive Netflix binge-watching. [Buzzfeed]
SOCHI: WHAT TO WATCH TONIGHT Jeremy Abbott will try to redeem himself after that nasty team ice skate performance. After all, the world lives for Olympic comeback stories.
In teacher news, here's a group of educators who announced a snow day to the tune of "Ice Ice Baby."
10100101
BOTS CAN'T GET ENOUGH BUZZFEED Turns out less than 40% of internet traffic originates from things with a heartbeat -- the rest is from bots. We say "heartbeat," because we've seen all those cute images of cats surfing the web. They like BuzzFeed, too. [Digital Trends]
FIRST IPHONE 6 PHOTOS? "The casing (picture below) has all the signature iPhone design elements, such as a camera and flash port, as well as the familiar Apple logo. But that's where the iPhone similarities end, as the larger size and rounded-edge frame shown in the photos are far more reminiscent of the iPad than any previous version of Apple's smartphone." [Mashable]
VIRGIN ATLANTIC HAS CONCIERGES WEAR GOOGLE GLASSES There better not be a 'high-tech' fee added onto our airline ticketing price. "Virgin Atlantic today began a pilot program in which its concierges in the Upper Class lounge at London's Heathrow Airport will don Google Glass to check in passengers. They'll be able to give passengers their latest flight information and tell them about the weather and events at their destinations. They can also translate foreign language information." [USA Today]
In otter news, here's a bunch celebrating Valentine's Day at the Georgia Aquariam.
Culture Catch-Up
NY FASHION WEEK FEATURES MODEL IN WHEELCHAIR Designer Carrie Hammer invited Danielle Sheypuk be the first person in a wheelchair to rock the NYFW runway. "People with disabilities need to see it. It's a confidence booster. It's like, 'if she's doing it, I can do it. Who cares about my wheelchair?" Sheypuk said. [HuffPost]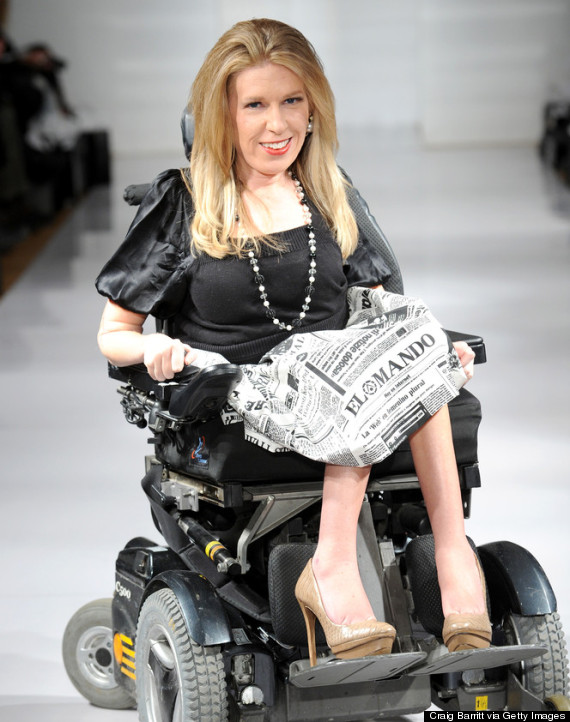 DAVID FINCHER AND GILLIAN FLYNN REUNITE The author of "Gone Girl" and the director who is bringing it to the silver screen are teaming up once more for a new HBO show called "Utopia." We're counting down the days until "Gone Girl" finally hits theaters. [Vulture]
TV TONIGHT Fox's "American Idol" will once again try to top the NBC winter Olympics coverage at 8 p.m. Eastern, but Jeremy Abbott's shot at figure skating redemption will probably beat out the umpteenth season of Idol. Just maybe.
In cuteness news, here's an Olympian holding puppies. D'awwwww. Looks like someone found his Tinder profile pic.
Livin'
DON'T HAVE MARBLE COUNTERTOPS? NO PROBLEM Here's 8 alternatives - we're big fans of the wooden Butcher block ones. After all, they eliminate the need for a cutting board. [Apartment Therapy]
GREENLAND PROVES ONCE AGAIN IT SHOULD HAVE BEEN NAMED ICELAND As these photos extolling its frozen virtues prove. [HuffPost]
CARS AREN'T EVEN SAFE IN CAR MUSEUMS Three things are certain in life: Death, taxes and ginormous sinkholes that open up and destroy eight priceless cars in a Corvette museum. [HuffPost]
GOSSIP ROUNDUP Rihanna revealed her accountant lost all her money in 2009, but before you start to worry, she's now worth $43 million. Drake called out Macklemore's Grammy apology text. And Justin Bieber's -- sorry Bizzle's -- wax statue had to be taken down from Madame Tussauds due to excessive fan groping.
In naptime news, here's a pug trying realllllllly hard to stay awake.
Good News
THIS BULLDOG IS A PROUD PAPA FOR THESE RESCUE KITTENS "When Hammie [the dog] first met [the kittens] he was so gentle," owner Michelle Parden said. "He would gently try to round them up like he was going to nurse them. He very carefully would lift his paw over them and caress the kittens."[HuffPost]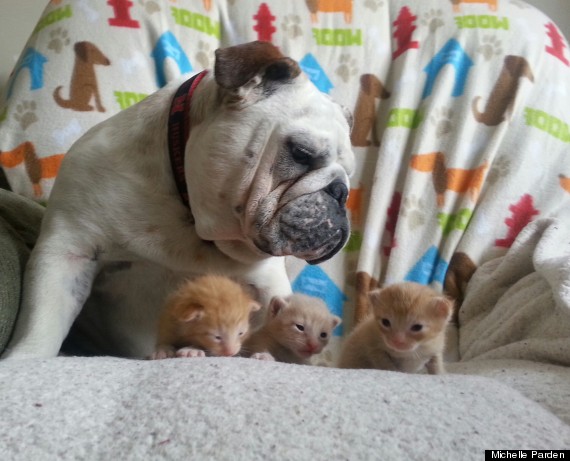 HIGH SCHOOL KIDS WITH AUTISM CHOSEN AS PROM KING AND QUEEN "For this group of kids to accept these special needs kids," Kelsey Roeser's mom said. "You can't put that into words, what that means as a parent." [HuffPost]
In hygene news, here's a cat enjoying a bath.
Twitterati
@Drake ~ I'm done doing interviews for magazines. I just want to give my music to the people. That's the only way my message gets across accurately.
@DanaJGould ~ A good mental health exercise would be to read Vanity Fair's Hollywood issue out loud & repeat, "Not that it matters," after each sentence.
@DanFoster ~Hopefully Jeter will find some time to date once he's out of baseball.
@BryanLynch ~ Is this art thing all part of Shia's ReBeouf?
@GeorgeHWBush ~It doesn't matter if he won a medal; @Shaun_White exemplified the Olympic spirit. I'm proud of him and all our Olympians. #TeamUSA
@FINALLEVEL ~Everything is gonna go wrong.... Get used to it.
ONE MORE THING This penguin should really consider the track events in the 2016 summer Olympics. [Gawker]
Got something to add? Send tips/quips/quotes/stories/photos/events/scoops to Lauren Weber (lauren.weber@huffingtonpost.com). Follow us on Twitter @LaurenWeberHP.