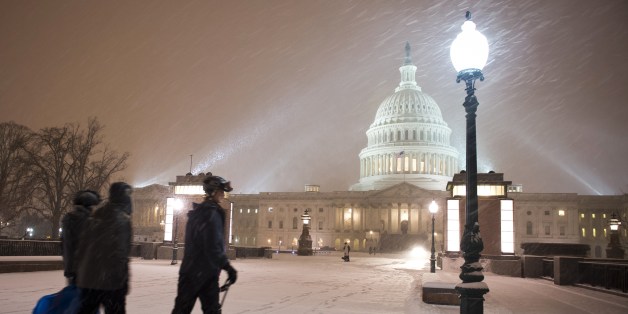 It's the biggest snowfall in Washington since 2010's Snowmageddon!
What's closed in D.C. on Thursday? Just about everything: Schools, airport runways, the federal government.
Thursday morning, with nearly 15 inches of snow having fallen in parts of the greater D.C. area, Metro -- rather remarkably? -- is still running, but drivers have been urged, strongly, to stay off the roads.
"You have to drive waaayyyy below the speed limit," Sgt. Mark Cummings of the Maryland State Police told the Washington Post.
Washington being Washington, the snow has not only paralyzed the city, but also brought out the political "funnies":
RT @Heritage_Action: Washington is buried in snow, and Congress just buried you with more debt. http://t.co/lHiubLYJDw #haction

— Jim DeMint (@JimDeMint) February 13, 2014
Twitter, like the area itself, is blanked in snow -- here's what it's looking like in and around the nation's capital:
Homemade salted hot chocolate on another #DC snow day! #capitolhill pic.twitter.com/MlJAN8sFSn

— Lauren Rice (@laurenlatelydc) February 13, 2014
Snow removal plan for Washington DC - wait for it to melt! pic.twitter.com/iWxs4xWNMP

— Hon. Mark Kennedy (@HonMarkKennedy) February 13, 2014
View out our round 2nd floor window in Washington DC. 12 more hours of snow & sleet (lighter...) predicted. pic.twitter.com/GuX4D7vGnB

— Charles Fishman (@cfishman) February 13, 2014
Snow out the Kazoo in Metro #DC. This is my pool! Approx 0.4 M (15.8"), still snowing. Roads impassable. pic.twitter.com/LoN87Lg50n

— Curtis Phinney (@CurtisCNS) February 13, 2014
Here's a better pic of #Georgetown in the snow this morning - so pretty if you don't have to drive #DC #fox5snowday pic.twitter.com/A9aB8n3JE5

— Steve Chenevey (@stevechenevey) February 13, 2014
MT "snow accumulation in Arlington. #dc @capitalweather pic.twitter.com/j44YaUs3xQ" // This pic was taken a block from our apt.

— Matthew Hawkins (@mthawk) February 13, 2014
Great #snowpocalypse for DC. Long snow slog of 6 mi thru Rock Creek. Now for @redcross ops update on the storm. pic.twitter.com/2zjsOYFII5

— Jon Loewus-Deitch (@Jonlode) February 13, 2014
Eater D.C. is keeping tabs on what restaurants are open (and cheap)
, for those who didn't brave long lines to stock up on bread, eggs and other French toast ingredients.
The Washington Post's Capital Weather Gang is live-blogging the precipitation event.
Let us know in the comments (or on Twitter -- @HuffPostDC) what it looks like outside your window. Unless you're off, like, sunbathing in the tropics. We can't handle the thought of that right now, to be perfectly frank.