By Linda Rosenkrantz for Nameberry
Many of the world's great lovers in myth, legend and history have highly romantic names -- or so they have come to seem as the result of their provenance. From the ancient Greek mythological to Anglo-Saxon, Irish, Persian and Italian lore, we find some intriguing names that -- despite the often tragic fates of their bearers -- continue to celebrate the power of love.
Acme & Septimus
This pair became known via Catullus's lovely Song 45, in which they were portrayed as the personification of ideal love and devotion. Septimus is one of the more plausible of the Latin numeral names, and a principal character in Virginia Woolf's Mrs. Dalloway.
Daphnis & Chloe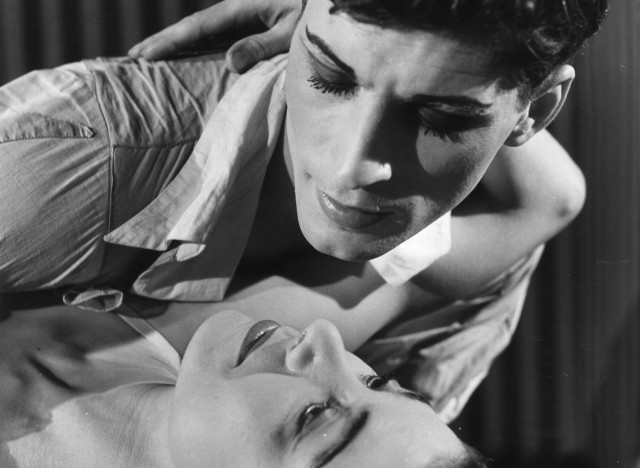 In the pastoral romance by a second century Greek writer named Longus, Daphnis and Chloe are shepherds who, after some dramatic events and close calls, do enjoy a happy ending. Chloe has been popular in recent decades in both the US and the UK., now ranking at Number 11 here.
Diarmuid & Grainne
One of the great romantic legends of Ireland centers on Grainne, considered the most beautiful woman in the land, and the handsome warrior Diarmuid -- a tale which ends (sigh) in disaster. Grainne, the Gaelic form of the phonetic Grania, has in the past been Anglicized as Grace. Diarmuid translates to Dermot.
Heloise & Abelard
One of history's most romantic true love stories is that of the 12th century philosopher and theologian Peter Abelard and his young student, Heloise. Heloise, a breathy slant on Eloise, became known to Americans via the author of Household Hints, but has never attracted many fans. Abelard could be an interesting extension of Abel.
Hero & Leander
These famous lovers of Greek myth were separated by the Hellespont, which he swam across every night to see her, until he finally (sigh) drowned. And yes, Hero is a female name, one that is just beginning to be considered here: Myleene Klass used it for her daughter.
Lancelot & Guinevere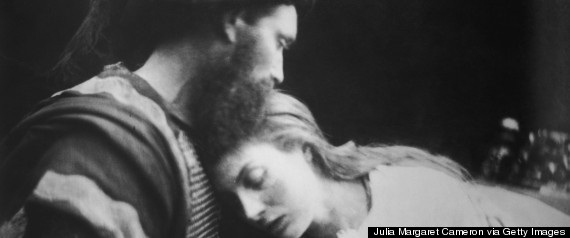 The romantic tale set in Camelot, of the love shared by one of King Arthur's noble Knights and (oops) Arthur's wife Guinevere -- is a scenario that couldn't possibly end well. Guinevere has for many years been overshadowed by Jennifer, its modern Cornish version, but the original sounds so much more rich and romantic today.
Layla & Majnun
This Persian love story originated as a poem in ancient Arabia, telling of Layla and Qays, who is so madly in love with her that he is given the name Majnun, which means 'possessed.' Layla, one of the extensive Leila, Lila, Lola cluster of names, has really zoomed in popularity of late: it's now at Number 31 -- its highest point ever.
Niamh & Oisin
In the Irish myth, Oisin falls in love with the beautiful Niamh of the Golden Hair and leaves with her on her snow white horse to the land of the ever-young, where they lived happily for three hundred years. Niamh, pronounced neev, is a Top 50 name in Ireland and Scotland, but would more likely be spelled Neve here, as Conan O'Brien did for his daughter. Oisin is pronounced oh-SHEEN.
Nicolette & Aucassin
Aucassin et Nicolette is an anonymous French medieval prose poem telling the story of how the aristocratic Aucassin was so much in love with the enchanting Nicolette, a Saracen maiden, that he forsook knighthood and chivalry. The feminissima name Nicolette had a bubble of popularity in the mid-nineties, but is completely off the charts now.
Paolo & Francesca
Young Italian lovers who lived in the time of Dante, they became involved in an operatic storyline, which ended (sigh) in tragedy. Francesca is the more feminine Italian version of Frances -- it's currently Number 12 in Italy, and is likely to benefit here from the positive influence of Pope Francis on all Fran names.
Pyramis & Thisbe
A romantic tale from Babylon involving a fatal misunderstanding, as many of these stories do, of lovers kept apart by family rivalry -- an inspiration for Romeo and Juliet. We think Thisbe is an enchanting, energetic name just waiting to be discovered.
Tristan & Isolde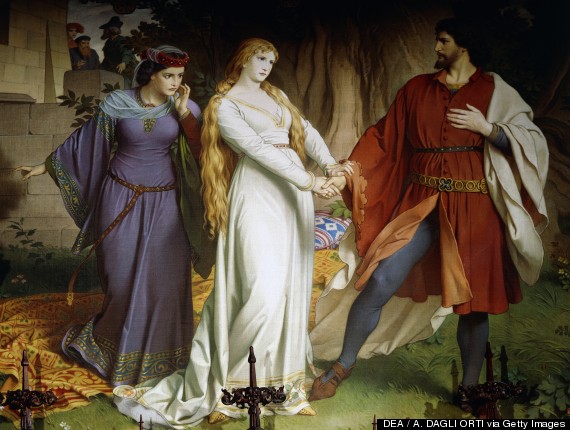 The main characters in a famous medieval romance that became the basis of Richard Wagner's magnificent 1865 opera,were seen as symbolic of undying love. Tristan, despite its somewhat sorrowful sound and meaning, has been growing in popularity since the 1970s and is now at Number 89; Isolde, aka Iseult and Yseult, is a Top 500 name in the Netherlands and has some potential for wider use here.
BEFORE YOU GO