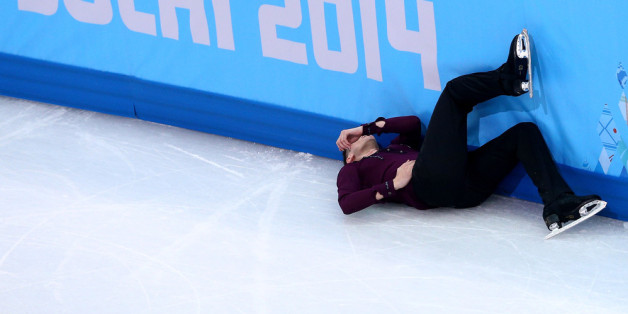 "I just want to put my middle finger in the air and say a big 'F-you' to everyone who has ever said that to me because they've never stood in my shoes," declared Jeremy Abbott, a U.S. champion figure skater and member of the U.S. team competing in the Sochi Winter Olympics, reports NBC.
After Abbott's fall in the men's short event on Thursday, the four-time U.S. national champion's reputation as a "choker" in big competitions was resurfaced, Yahoo reports.
His fall on Thursday left him on the ice, apparently nursing an injury. He went on to finish his routine, finishing in 15th and was given a standing ovation for his efforts. Thursday's fall that landed him in 15th place was preceded by a poor showing in the inaugural men's team short program.
In his statement on Friday to reporters, Abbott said, "Nobody has to stand center ice in front of a million people and put an entire career on the line for eight minutes of their life when they've been doing it for 20-some years," and "if you think that that's not hard, then you're a damn idiot."
Also on Friday, Abbott participated in the free skate program, scoring 160.12, his personal best in international competition, as Yahoo notes.

BEFORE YOU GO
PHOTO GALLERY
2014 Sochi Olympics Photos