Meet Michael, an elementary school-aged child who was born with only part of his brain. Michael lives in Florida, where, despite his condition, he still has to take standardized tests.
As reported in The Washington Post, Michael is blind, cannot speak and has trouble processing basic information. Michael's guardian told local news outlet WKMG last year that although the boy works with a teacher, he has never gone to school in the traditional sense, and that testing him is essentially pointless.
(Story continues below.)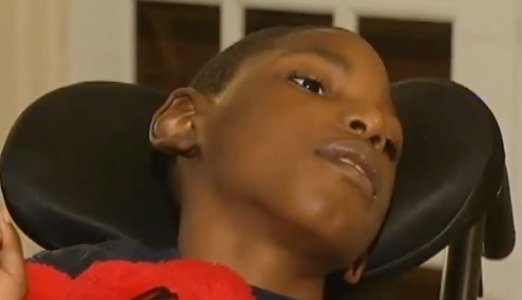 Despite his severe disabilities, Michael must take standardized tests.
"I don't understand why the educational system doesn't wake up," Judy Harris, who cares for Michael at a group home, told WKMG.
This year, Michael will be required to take the Florida Alternative Assessment, a version of Florida's Comprehensive Assessment Test for students with learning disabilities. He also took the test last year, per WKMG.
A state law passed last spring allows Michael the option of getting a waiver from standardized testing, but the process of obtaining this waiver is lengthy and cumbersome. His Individual Education Plan team would have to submit a myriad of written documents to the state education commissioner, explaining why he cannot take the assessment. As a result, Michael's guardian has chosen not to pursue a waiver.
When asked by the Post why it was not simpler for students like Michael to attain a waiver, Cheryl Etter, press secretary at the Florida Education Department, told the outlet in an email: "If a student lost their eyesight due to an accident a month before testing, the student would be eligible for a waiver from testing for that academic year. Waivers do not apply to students with a chronic situation."
Orange County School Board member Rick Roach last year said that the district has no choice but to test Michael, although he recognized the situation is problematic.
"Michael can't see, he can't cognitively interpret that particular test and so teachers are almost being forced to move the hand into one of three boxes and then they to make the determination did he move he hand or did I move the hand. If I didn't laugh, I'd probably cry [all sic]," said Roach to Orlando News 13.
Other Florida students are in similarly perplexing situations when it comes to standardized tests. Even when Ethan Rediske, 11, was on his death bed, his family had to go through the complicated channels of getting him a waiver. Ethan passed away last week.
BEFORE YOU GO
PHOTO GALLERY
Teacher Controversies