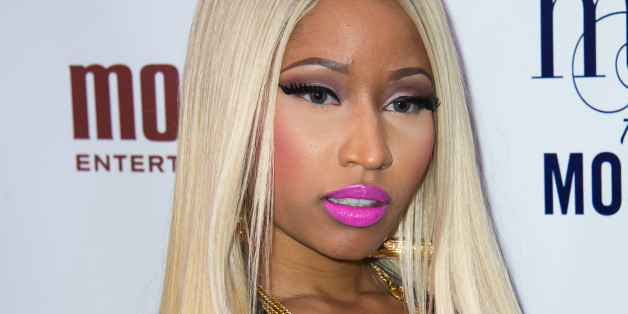 Nicki Minaj has apologized for using an image of Malcolm X for the cover art of her controversial new single, "Lookin A** N****."
Minaj released the music video for her new track along with a photo of the cover art shared on her Instagram page Wednesday, USA Today reported.
The cover art featured the song's title on an iconic photo of the civil rights leader holding an M1 Carbine semi-automatic weapon and looking out a window, the outlet noted. (The image originally appeared in Ebony magazine in 1964, a time during which Malcolm X was receiving death threats.)
Fail - Nicki Minaj under fire for using Malcolm X image. This is the picture. http://t.co/smGU0pSRpG via @theGrio pic.twitter.com/s0ig51kW8K

— Kyle Harvey (@HarveyWins) February 13, 2014
As the Wall Street Journal points out, critics had already blasted the song's lyrics. The rapper's use of the image in unison with the track caused even more of a stir.
"[The use of this photo] to help sell a song called 'Lookin' A** Ni**a,' which is basically slamming men that Minaj feels are clowns and uses the N-word more times than I feel like counting–makes sense why it isn't sitting well with people, right?" writes Victoria Uwumarogie of MadameNoire, a "lifestyle site geared towards African-American women." "And let's not forget that it's Black History Month, though the use of this image any other time would still be cringe-worthy and unnecessary."
A Change.org petition created in response to the cover asks Minaj to change the photo because it is "disrespectful to the life and legacy of Malcolm X and all that he fought against and represented."
On Thursday, Minaj posted an apology to Instagram, along with a screengrab from her music video. In the message, she wrote:
What seems to be the issue now? Do you have a problem with me referring to the people Malcolm X was ready to pull his gun out on as Lookin Ass N****z? Well, I apologize. That was never the official artwork nor is this an official single. This is a conversation. Not a single. I am in the video shooting at Lookin Ass N****z and there happened to be an iconic photo of Malcolm X ready to do the same thing for what he believed in!!!! It is in no way to undermine his efforts and legacy. I apologize to the Malcolm X estate if the meaning of the photo was misconstrued. The word "n****" causes so much debate in our community while the "n****" behavior gets praised and worship. Let's not. Apologies again to his family. I have nothing but respect an adoration for u. The photo was removed hours ago. Thank you
The image of Malcolm X has since been removed from Minaj's Instagram account and her website.