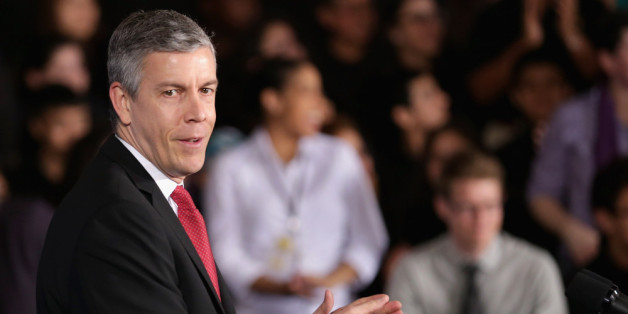 After an outside contractor bungled an analysis of a major federal school turnaround program, the U.S. Department of Education has issued corrected results -- and they're not much better.
Like the previous one, the new report shows that about one-third of schools in the program decreased their proficiency rates, and slightly less than two-thirds of schools showed an increase. But there were small changes between the two reports, too. The initial November 2013 report on School Improvement Grants found that in reading, 45 percent of students at schools in their second year in the grant program were proficient, up from 40 percent two years earlier. According to the corrected report, 46 percent of those schools were proficient, up from a starting point of 43 percent two years earlier.
But it's too early for the numbers to be conclusive. Since the comparisons rely on school-wide proficiency rates weighted by the number of test takers, they don't account for changes in the characteristics of student populations (though they have been adjusted to account for population size).
School Improvement Grants, a signature program of U.S. Secretary of Education Arne Duncan, has poured about $5.9 billion into more than 1,500 schools. Duncan put the program at the center of his efforts to turn "around the bottom 5 percent" of the nation's schools. The program allows schools to choose from four models: closing schools; turning schools over to a charter school management organization; shifting evaluation and curriculum; or replacing some staff. Duncan has said he hopes these result in "transformation, not tinkering."
When the DOE released the initial analysis, Duncan was upbeat. "The progress, while incremental, indicates that local leaders and educators are leading the way to raising standards and achievement and driving innovation over the next few years," Duncan said in a statement. "To build on this success in our disadvantaged communities, we must expand the most effective practices to accelerate progress for students and prepare them for success in college and careers."
In December, though, the feds released a statement that the outside contractor -- American Institutes of Research, which was paid $28,300, as reported by Education Week -- had erroneously excluded too many schools from its calculations.
The new analysis was released on Valentine's Day -- the Friday before a long weekend -- with no remarks from Duncan. It now includes 100 more schools' math scores and 131 additional schools' reading scores. But according to its appendix, it still leaves out 40 percent of all SIG schools. The DOE omitted those schools because they've changed configurations in ways that make scores hard to measure. Some have closed, and others changed the grades they test, have unreliable data or their students were not required to take standardized tests.
The report found that in math, 69 percent of schools in their second year of the grant saw gains, as well as 57 percent in the grant's first year. In reading, 65 percent of schools in the second year of the grant saw gains, compared to 62 percent of those in the first year. The new report also found softer points of improvement: support from district leaders, skilled principals who felt more autonomous when it came to choosing teachers and the "establishment of a strong learning community."
Andy Smarick, a former Bush administration official, said the updated results are still "depressing."
"When we saw the initial data, we spent 1 billion for every 1 percentage point increase in reading proficiency in schools, but now we can't even say that," said Smarick, a frequent SIG critic. "We knew that this program was failing and now the results are even worse."
He said he expects the scores to worsen. The 2014 omnibus budget bill passed by Congress gave SIG $505 million, but also changed the program dramatically. Under the new bill, schools will not be restricted to the feds' four pre-approved school turnaround models. Instead, they have two more options: "whole school reform," which lets an outside organization help alter the school; and using any improvement strategy for which the state previously received federal approval.
Teachers' unions and school districts generally approved these tweaks. "History tells us when states and districts have flexibility they use light-touch interventions that are likely to get virtually no improvement," Smarick said. "The omnibus changes will make states and districts happy, but history tells us the results aren't going to be there."
BEFORE YOU GO
PHOTO GALLERY
U.S. Capitol Photos