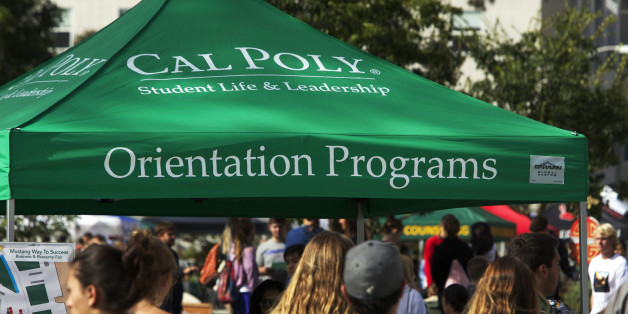 New rules at Cal Poly San Luis Obispo forbid students, including those 21 or older, from taking shots at frat parties.
Under the Greek alcohol and party policy at Cal Poly that was enacted Wednesday, shots, drinking games and other behaviors that "encourage" intoxication are banned.
Kegs, handles of liquor and cases of beer are also banned at registered Greek parties, as are pitchers and beer bongs. All parties must be closed and the guest list finalized 24 hours in advance of the event.
Parties cannot be longer than 5 hours, must end by 1 a.m. and last call for these parties must be an hour before they end. Parties cannot be held on school nights either, but all of those rules can be waived for special events approved by the administration.
The policy goes into effect immediately, ending a month long social probation for all Greek houses, according to the Mustang News.
"We will be working to successfully implement the new policies as soon as this weekend," Danielle Durante, Cal Poly's Panhellenic president, told The Tribune in San Luis Obispo. "We will start reviewing the effectiveness of the policy with administration and creating any needed changes by the beginning of March."
The policy may sound extreme to some not affiliated with Greek life, however, parts of it are modeled off of national guidelines. Cal Poly's new rule banning drinking games, for instance, mirrors guidelines advocated by the Fraternal Information and Programming Group, Inc. risk management policy that are put in place at universities around the country.
Drinking among Greeks at the San Luis Obispo, Calif., campus has remained under scrutiny in recent years, following the 2008 death of freshman Carson Starkey due to alcohol poisoning during a fraternity ritual.
The school banned the recruitment of new, first-year students in 2010, though it agreed to relax that provision in summer 2013 following lobbying from local and national fraternity groups.
Read the whole policy below, courtesy of Mustang News.