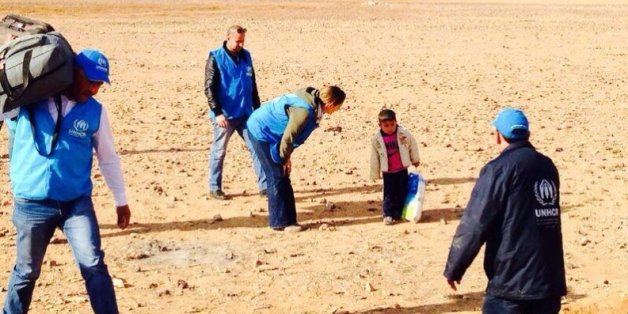 La foto conmovió, fue difundida por los medios de comunicación alrededor del mundo y era un pequeño niño de cuatro años, llamado Marwan, un refugiado sirio que supuestamente había cruzado solo la frontera con Jordania.
Sin embargo, ahora se indica que había quedado "separado temporalmente de su familia en el remoto cruce de Hagallat" y allí fue encontrado por el personal del Alto Comisionado de las Naciones Unidas para los Refugiados (ACNUR).
Apenas 10 minutos después, Marwan se estaba reuniendo con su madre.
Este martes, Andrew Harper, el jefe de Acnur en Jordania, quien originalmente tomó la foto y la publicó en Twitter, aclaró que el pequeño no se encontraba solo, sino que estaba detrás de un grupo de refugiados, en el que se encontraba su madre. En la foto de abajo se explica la ubicación del niño del resto de los desplazados sirios.
Thanks to Jared 4 this shot showing Marwan at the back of this group of @refugees. He is separated - he is not alone. pic.twitter.com/vq2JpxjT8j

— Andrew Harper (@And_Harper) February 18, 2014
@And_Harper @TheGreatOne2012 correct, original tweet said he was temporarily separated, it was the media who claimed he was alone not UNHCR

— GinnySacksMole (@GinnySacksMole) February 18, 2014
(INFORMACIÓN PUBLICADA ANTERIORMENTE, TOMADA DE EL HUFFINGTON POST)

Miren la imagen de abajo. El niño que porta una bolsa en su mano izquierda se llama Marwan, tiene apenas 4 años y acaba de cruzar la frontera de Siria con Jordania huyendo de la barbarie de la guerra, que le había separado de su familia.
Por suerte se encuentra con un equipo de ACNUR, que le ayuda a llegar a un campo de refugiados. Según la propia ACNUR, allí Marwan se ha encontrado con su familia.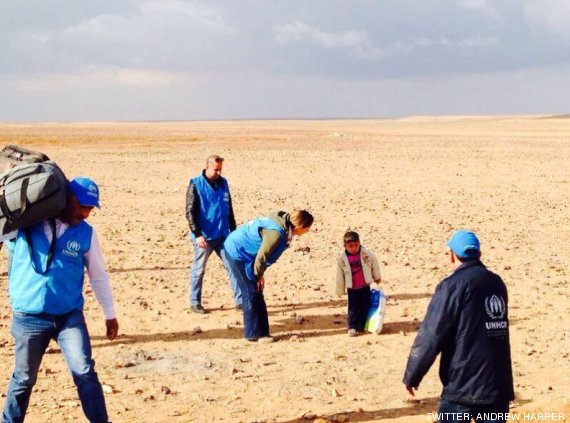 La imagen fue tuiteada por Andrew Harper, representante del ACNUR para Jordania:
Here 4 year old Marwan, who was temporarily separated from his family, is assisted by UNHCR staff to cross #Jordan pic.twitter.com/w4s2mrNnMY

— Andrew Harper (@And_Harper) February 16, 2014
Just to let you know that Marwan was safely reunited w his mother soon after being carried across the #Jordan border pic.twitter.com/h1XskyhWgz

— Andrew Harper (@And_Harper) February 17, 2014
El propio Harper tuiteó otras imágenes de más sirios buscando refugio lejos de su país, con los que pudo llegar el pequeño Marwan:
With the failure of the Geneva talks our teams are back at the east'n #Jordan border receiving #Syrian @refugees. pic.twitter.com/hP29MVWhGX

— Andrew Harper (@And_Harper) February 16, 2014