Jayci Glover could've taken a quick trip to Disney World or met her favorite pop star. But instead, the 13-year-old decided to give her final wish away to her school so that she could leave something behind for her friends.
Jayci has been valiantly battling a rare form of lymphoma for a year, according to KSL. She's undergone numerous types of chemotherapy, radiation and a bone marrow transplant, but her cancer is progressing quickly and has spread throughout her body, according to her mother's Caring Bridge journal.
Left with no viable treatment options, Jayci and her family decided to leave the hospital in Salt Lake City, and return to their small town a few hours away so that Jayci "can have some fun," her mom, Heather Glover, told KSL earlier this month.
Part of the "fun" included getting a special experience from the Make-A-Wish Foundation -- a nonprofit that grants wishes to kids diagnosed with life-threatening conditions.
Jayci asked the foundation to give her school a gift they sorely need: a new scoreboard, Yahoo News reported.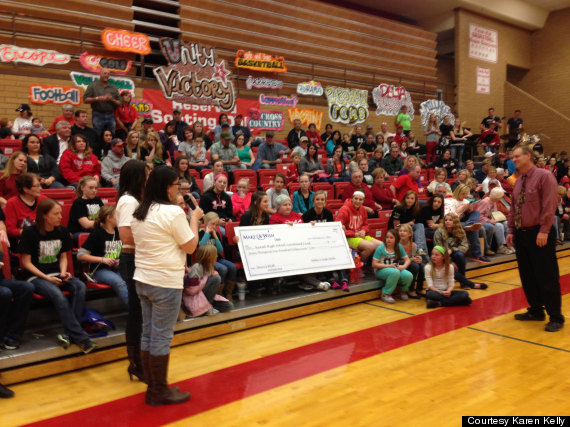 Before the basketball game at Kanab High School last Wednesday night, the organization presented a $7,500 check to Principal Brenan Jackson in Jayci's name.
It's her ability to see the bright side of any situation -- no matter how dire -- that is helping her family cope with Jayci's fate.
"Make no mistake, Jayci has won her battle with cancer," Heather Glover wrote on her blog. "Even when doctors and specialists thought there was no way she would/could tolerate another brutal treatment, she did it. And she did it with a smile on her face. She never let cancer into her spirit."
Jayci's family was proud of their daughter for giving away her Make-A-Wish, but they are still struggling to pay her mounting medical bills and have begun preparing for the funeral costs. Find out how you can help the Glover family here.