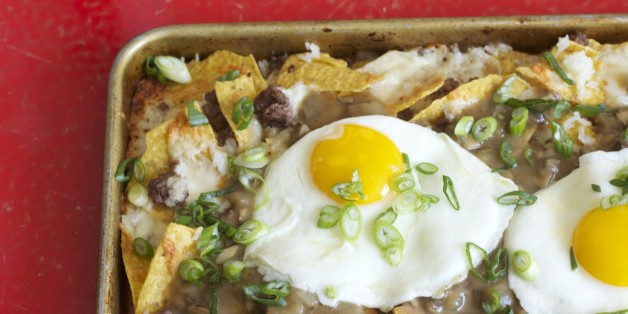 We really love nachos. How much? So much that we eat them at least once a month. So much that we're not content with normal nacho fixings, and have branched out into more creative territory. So much that we want it to seem totally normal to eat nachos for dinner. In order to push our unrepentant nacho agenda, we bring you Nachos of the Month. Because you deserve them, and so do we.
For those of you who are not aware, in late 2012, President Barack Obama confirmed that nachos are, in fact, his food weakness. To say that our hearts sang would be seriously underestimating both the noise our hearts actually made, and how pleased this truly made us. That's why we decided, in honor of our President on this day-after-Presidents-Day, to make loco moco nachos.
For those who are neither Hawaiian nor as obsessed with American regional foods as we are, loco moco is a specialty of our very own islands, which usually involves white rice topped with burger patties, brown gravy and a fried egg. It is to Hawaii as biscuits and gravy are to the American South -- an absolute gut-bomb charged with curing the most furious of hangovers. So yeah, we turned that into nachos.
Before we go any further, you should know two things: 1) these were some of the best nachos I've ever made, and I cannot figure out why we don't put gravy on nachos all the time, and 2) these absolutely demand vinegary hot sauce and beer as accompaniments.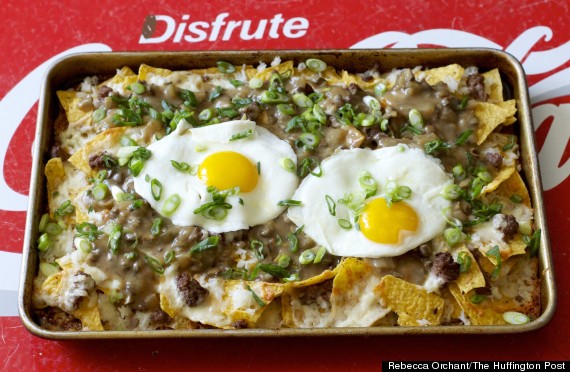 Loco Moco Nachos
1 cup cooked rice
1/2 lb ground beef
1 large onion, diced
5 oz. mushrooms, roughly chopped
1 tbsp olive oil
6 tbsp butter
4 tbsp flour
1 pint stock (beef would be amazing, I used chicken, but vegetable would be totally fine too)
Few dashes worcestershire
Salt
Pepper
8 oz. Monterey Jack, grated
4 oz. sharp cheddar, grated
1 9-oz. bag tortilla chips
2 eggs
4 scallions, thinly sliced
Preheat your oven to 375 degrees Fahrenheit.
Form the beef into two patties, season them with salt and sear them in a hot cast iron skillet or other deep, heavy pan over medium-high heat for about 2 1/2 minutes on each side (I cooked these to medium rare, then let them rest while I made the gravy).
When the burgers are done, remove them to a plate to rest. Add the onions to the hot pan with 1 tablespoon of the butter, the olive oil and a pinch of salt. Cook for 5 minutes until they start to turn translucent, then add the mushrooms and cook until the mushrooms have given up all their juices and they've almost evaporated, about 10 minutes.
Add 4 tablespoons butter, and let melt. Add the flour and stir continuously until it starts to brown and smell nutty, about 5 minutes. Slowly add a tablespoon of the stock, whisking it into your roux, then another, then another until it starts to look like gravy (I used about a pint of stock). Bring the gravy to a boil, then turn the heat down to simmer. Add a few dashes of Worcestershire sauce, and season to taste with salt and pepper (it will get a little saltier as it continues to simmer, so don't get crazy). Let simmer for about 20 minutes, while you prep the rest of your nachos.
Remove your burgers from their resting plate and add any leftover juices to the gravy pan. Dice up the burgers. On a sheet tray, arrange half of your chips and cover with half the cooked rice, half the burger meat and half of the cheese. Then do a second layer in the same order. Put the pan in the oven for 10-15 minutes, or until all the cheese is melted and starting to brown a bit around the edges.
Just before the nachos are done, melt the last remaining tablespoon of butter in a non-stick pan, and slip in two eggs. I made mine sunny-side up, but you could make yours over easy, or even fried hard if you're not into runny yolks (weird on, weirdos).
Remove the nachos from the oven, ladle the gravy over them, then top with the eggs and scatter the green onions over the whole thing. Enjoy immediately with lots of vinegary hot sauce and a beer.
Want to read more from HuffPost Taste? Follow us on Twitter, Facebook, Pinterest and Tumblr.
BEFORE YOU GO
PHOTO GALLERY
Nacho Recipes