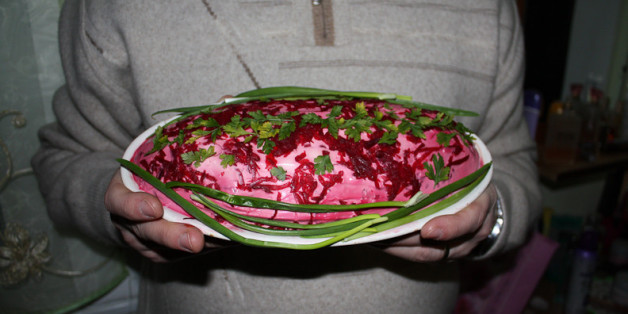 With the Winter Olympics in full swing at Sochi, there's been a lot of talk of all things Russian -- from figure skating prodigies to hotel room surveillance. Naturally, we here at HuffPost Taste took that as a cue to start thinking about Russian cuisine.
The Russians have been taking in their fair share of gold medals this Olympic season, and we can't help but wonder if the food has something to do with it. You see, Russian cuisine is shaped by its country's unique landscape -- and Russia is cold, hard and intense (all the makings of a killer athlete, by the way).
Because of its brutal winter and incredibly short summer season, Russian cuisine is one that indulges in fats (you need them to keep warm), has mastered how to preserve summer ingredients (to make it through the less productive months of winter) and celebrates vodka. It is bold -- and, well, pretty hardcore.
You have to be hardcore to make it in Russia, so it's only natural that their food would be so too. Behold, 10 times Russia's food proved that they are way more hardcore than the rest of us could ever hope to be.
PHOTO GALLERY
Russian Food Is Hardcore
CORRECTION: A previous version of this post suggested that the image of the pancake was a blini when it is in fact an olady. All pancake confusions have been taken care of.
Want to read more from HuffPost Taste? Follow us on Twitter, Facebook, Pinterest and Tumblr.
BEFORE YOU GO
PHOTO GALLERY
Soup Recipes