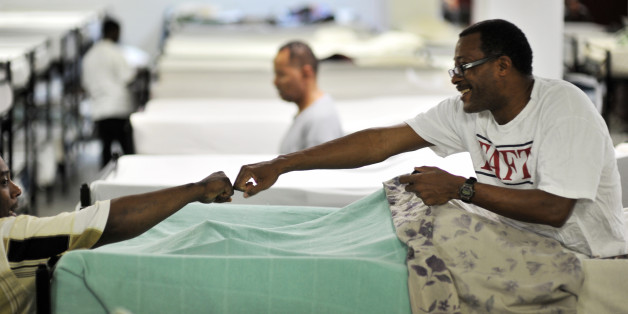 A new residential treatment facility aimed at preventing homelessness among veterans returning from Iraq and Afghanistan opened in San Diego on Monday.
While the city has a veteran population of 240,000, the Aspire Center is the only facility to exclusively serve veterans coming home from 21st-century wars, the Los Angeles Times reports.
Vincent Kane, director of the Veterans Affairs' National Center on Homelessness Among Veterans, said opening the center was an important step in caring for newer veterans, who share common experiences and are of similar ages.
 
"When you have a tighter cohort, you can focus in on their specific needs," Kane told the Los Angeles Times. "The older veterans are at a different station of life."
The VA plans to open four more residential treatment facilities -- in Philadelphia, Denver, Atlanta, and West Palm Beach, Fla. -- over the next two years, but the San Diego facility will remain the only one established exclusively for those coming back from Iraq and Afghanistan.
The Aspire Center development is part of a larger goal set by the Obama administration to eliminate veteran homelessness by the end of 2015. In November, the VA pledged $14 million in funds for rehabilitating veteran housing projects and enhancing social services.
While it remains unknown if the Obama administration will reach its goal, the initiatives are making progress. Veteran homelessness has dropped more than 17 percent since 2009, and, according to MSNBC, two major U.S. cities -- Phoenix and Salt Lake City -- have eradicated veteran homelessness entirely.
BEFORE YOU GO
PHOTO GALLERY
Honoring our veterans