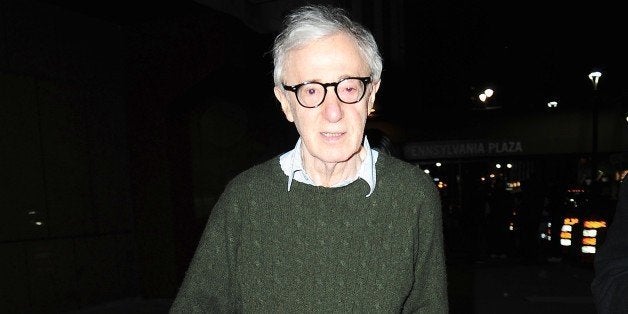 Though the statute of limitations may have run out, there are no limits when it comes to the court of public opinion.
No criminal charges can be brought against Woody Allen in the wake of Dylan Farrow's allegations that he sexually abused her in 1992, but that's not stopping anyone from expressing their thoughts on the incident. Page Six reports that while attending a matinee of the Broadway show "After Midnight," with his wife Soon-Yi Previn and their two daughters, Allen was "heckled" by an audience member who yelled, "I think he did it!" in reference to the allegations.
Witnesses told Page Six that Previn shot the heckler a "dirty look," while Allen seemed "unfazed."
Allen's adopted daughter Dylan wrote an open letter in the New York Times on Feb. 1, revisiting allegations that the director molested her when she was seven years old. Allen denied the accusations in his own piece in the Times the following week, writing that it would be his "final word on this entire matter." Dylan responded to Allen's op-ed with an essay in The Hollywood Reporter, calling his version of the events "outright lies."

BEFORE YOU GO
PHOTO GALLERY
Celebrity News & Photos