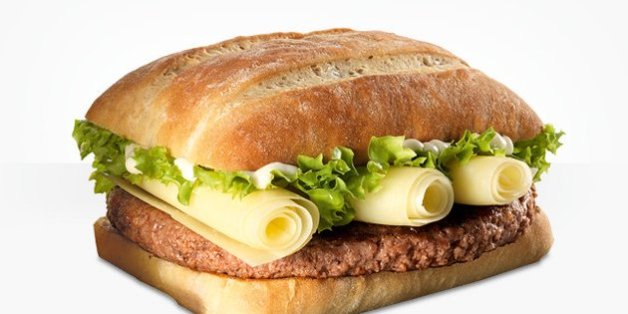 McDonald's international options are constantly making us want to travel. From India's Chicken Maharaja-Mac to Japan's Bacon Potato pie, we're a little jealous of the choices in other countries. Are those Nutella crepes, McDonald's France? Yeah, we see you and your Poutine, McDonald's Canada.
McDonald's Switzerland may have just trumped everything, however, with a new set of burgers: the McGruyere, McChevre and the McSbrinz.

These three cheesy burgers have just been released as limited-time-offers under a menu collection called Les Grandes Envies de Fromage, roughly translated as "large cheese cravings." Yeah, that sounds about right.
The McGruyere contains Swiss Gruyere on a beef patty, sandwiched in a special bun. The McChevre has goat cheese on a beef patty, sandwiched by sourdough bread. And the Sbrinz Burger contains Sbrinz cheese, the oldest Alpine cheese, rolled into flutes.
The burgers have been available in Switzerland at different intervals over the past two months, and each costs around $8.85. Unfortunately, none of them are currently still available. Even more disappointing, the short promotions follow another round of McDonald's Switzerland special offerings, which included the McRaclette and hash brown fries called "Rosti Fries."
And what does the U.S. get? Shamrock Shake season.
[h/t Consumerist]
Want to read more from HuffPost Taste? Follow us on Twitter, Facebook, Pinterest and Tumblr.
BEFORE YOU GO
PHOTO GALLERY
21 McDonald's Meals You Can't Get In America